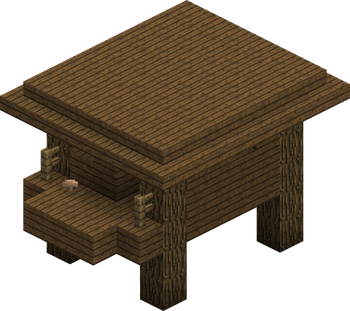 Witch Hut
Witch Hut
 (také známo jako
Swamp Hut
) je generovanou strukturou vytvořenou převážně z tmavého
dřeva
. Přirozeně se vyskytují pouze v
bažiném
biomu.
Tyto budovy jsou velmi vzácné a je těžké je najít. Uvnitř se spawne jedna čarodejnice.
Witch Hut je vytvořen ze Spruce Wood, Spruce Wooden Planků, střecha je z tmavých Spruce schodů a vstup zdobí Fence. Uvnitř je Crafting Table a prázdný Cauldron. V okně může být květináč s houbou.
Jakmile čarodějnice spadne z této budovy, už se zpátky nedostane. Pokud ji zabijete tak se znovu nespawne.
Ad blocker interference detected!
Wikia is a free-to-use site that makes money from advertising. We have a modified experience for viewers using ad blockers

Wikia is not accessible if you've made further modifications. Remove the custom ad blocker rule(s) and the page will load as expected.