Walnut se vyskytuje ve dvou formách. Jako strom a jako jeho plody (Ořechy).
| | |
| --- | --- |
| | Strom, který získáte křížením. |
| | Tyto plody získáte z Walnut stromu. |
Walnut (také znám jako Common Walnut) strom vznikne zasazením Common Walnut Sapling. Ten získáte křížením stromů. Více o křížení stromů zde → Arboriculture.
Tento sapling vyšlechtíte křížením Cherry a Silver Lime. Má 10% šanci na vyšlechtění. Jsou to stromy průměrného vzrůstu s tloušťkou kmene 2x2. Mají tmavé dřevo a jejich produktem je Walnut. Aby vám vyrostl musíte zasadit Saplingy do čtverce 2x2.
Po vykopání získáte Walnut Wood. Po vložení do Crafting Table dostanete 4 kusy Walnut Wood Planks. Z těchto Wooden Planků můžete vytvořit schody, fence nebo slaby stejné barvy. Toto dřevo můžete využít stejně jako obyčejné dřevo (např jako palivo).
Barva Walnut Wooden Planků/Stair/Slabů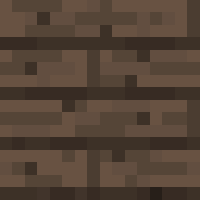 Walnut (Item)
Walnut (item) je plod Walnut stromu. Postupně uzrává na listech. Má několik fází. Pokud rozbijete listí, vypadne vám Walnut (Ořech). Využívá se ke konzumaci kde obnoví

hladu nebo ho můžete vložit do Squeezeru a vytvořit z něj Seed Oil.
Ad blocker interference detected!
Wikia is a free-to-use site that makes money from advertising. We have a modified experience for viewers using ad blockers

Wikia is not accessible if you've made further modifications. Remove the custom ad blocker rule(s) and the page will load as expected.