Ad blocker interference detected!
Wikia is a free-to-use site that makes money from advertising. We have a modified experience for viewers using ad blockers

Wikia is not accessible if you've made further modifications. Remove the custom ad blocker rule(s) and the page will load as expected.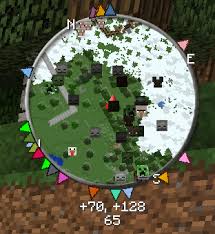 Voxelmap 
je mód ktorý pridáva do hry minimapu.
Mapa má podobné funkcie ako Rei's Minimap.
Inštalácia
Edit
link: Voxelmap
Ak nemáte v klientovi Minecraft Forge tak si ho nainštalujte. 
Súbor vložte do .minecraft/mods
Vzhľad minimapy
Edit
Pre otvorenie menu minimapy stlačte M
pod minimapou sú súradnice
na tejto stránke sa pracuje
Edit