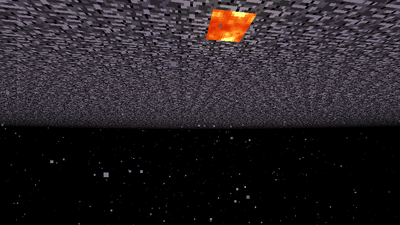 Pohled na Void pod Bedrockem
Void
je termín přiřazený k prázdnému místu pod
Bedrockem
ve
světe
,
Netheru
a
Endu
. Void částice můžete nalézt u dolních vrstev bedrocku. Void je technicky nekonečný, ale pokud budete padat více jak 32 milionů blocků, spadne vám Minecraft klient. Pokud máte Creative tak vás Void zabít nemůže.
Pod vrstvou Bedrocku nelze pokládat žádné blocky. Pokud ale zde položíte Gravel nebo písek, bude nekonečně padat a nikdy nedopadne. Pokud položíte Piston na Y:0 nebo Y:1 směrem dolů, nevysune se. Lava i Voda se do Voidu nevylijí.
Void má unikátní vlastnost. Když jste blízko Voidu, sníží se vám viditelnost a uvidíte černé poletující částice. Tento efekt se nazývá Void Fog Effect. V čistém Minecraftu ho nelze vypnout.
Void v Netheru má červenější barvu. Naleznete ho na Y:0 i na Y:255. Nad bedrockem v Netheru se buguje světlo a mohou se zde spawnout houby.
Vstup do Voidu
Pokud spadnete do Voidu v Survival modu, začne dostávat poškození okolo
každou půl vteřinu až nakonec hráč zemře (většinou to trvá 2,5 vteřin a méně). Brnění vás před tímto poškození neochrání. I kdyby jste dokázali přežít déle jak 3 vteřiny, na Y:-199 nastává okamžitá smrt.
Entity (mobové a itemy) dostávají stejné poškození jako hráč s vyjímkou Withera. Každá entita zmizí na Y:-64. Jakákoliv Entita nad Y:319 a pod :Y-64 bude černá.
Způsoby dosažení Voidu
Nastavíte si Creative mod a prokopete se skrz Bedrock. Takto můžete létat Voidem aniž by jste byli zraněni.
Creative mod - Prokopete se skrz Bedrock. Nad Netherem lze stavět blocky.
Survival mod - Vezměte si alespoň Ender Pearly a prokopejte se k nejvyššímu místu vrchní vrstvy Bedrocku. Házejte je neustále proti Bedrocku dokud se neteleportujete skrz. Další možností je, že na nejvyšší block Bedrocku položíte žebřík, pod něj block a hodíte Ender Pearlu proti žebříku a zároveň držte mezerník a W (tlačítka pro skok a chod dopředu).
Skočte z okraje ostrova. Takto se okamžitě dostanete do Voidu.
Zajímavosti
Pokud je hráč nad Y:64, vidí Void modře bez mlhy
Pokud v Creativu rozbijete Bedrock a nahradíte ho jiným blockem, bude skrz něj do Voidu pršet.
V Netheru jsou 2 Voidy
Ve Voidu lze přežít když sníte několik Golden jablek
Nikdy nenaleznete díru v Bedrocku aby jste mohli spadnout do Voidu
Nikdy nerozbijete Bedrock pomocí TNT
Ad blocker interference detected!
Wikia is a free-to-use site that makes money from advertising. We have a modified experience for viewers using ad blockers

Wikia is not accessible if you've made further modifications. Remove the custom ad blocker rule(s) and the page will load as expected.