Tool Station je stůl, používaný pro sestavování Nástrojů, přidávání Zlepšováků a opravování Nástrojů kombinováním materiálu s nástrojem.
Pro používání Tool Station je potřeba nejprve zvolit typ operace pomocí tlačítek (box A). První tlačítko umožňuje opravy a vylepšování, zatímco ostatní se používají ke craftingu těchto nástrojů: Pickaxe, Shovel, Hatchet, Mattock, Broadsword, Longsword, Rapier, Dagger, Frying Pan, Battlesign, Chisel, Shortbow a Arrow. Po kliknutí na nějaký nástroj se box B přetransformuje pro crafting toho určitého nástroje. Nástroj je možné odebrat z boxu C.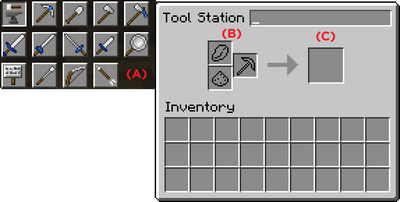 Ad blocker interference detected!
Wikia is a free-to-use site that makes money from advertising. We have a modified experience for viewers using ad blockers

Wikia is not accessible if you've made further modifications. Remove the custom ad blocker rule(s) and the page will load as expected.