Switch Motor slouží k automatickému přehazování výhybek. Lze ho připojit k jakékoliv Switch Track nebo Wye Track.
Aktivuje se Redstone signálem. Zaké lze propojit s Signal Controller Boxem a ten poslouží  jako přijímač.
Toto propojení vytvoříte pokud budete držet ⇧ Shift a kliknete pravým tlačítkem myši na Signal Controller Box a poté na Switch Motor se Signal Tunerem v ruce.
Spojení mezi těmito přístroji můžete vidět pomocí Trackman's Goggles s nastaveným módem Tuning.
Pokud kliknete pravým tlačítkem myši na Switch Motor, otevře se vám GUI. Zde máte možnosti, na které druhy signálu z Signal Controller Boxu bude reagovat a přehazovat výhybku.
Crafting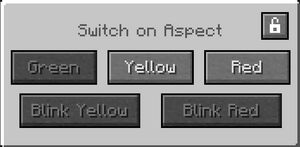 GUI s aktivovanými barvami Yellow a Red.
Využití
RailCraft
 

Ostatní

Armor

Batohy

Bore Heady

Nástroje
Ad blocker interference detected!
Wikia is a free-to-use site that makes money from advertising. We have a modified experience for viewers using ad blockers

Wikia is not accessible if you've made further modifications. Remove the custom ad blocker rule(s) and the page will load as expected.