Sugar Cane

Typ
Průchozí
ID
83
Obnovitelný
Ano
Stackovatelné
Ano (64)
EMC hodnota
32
Mod
Vanilla
Sugar Cane (také znám jako Reeds) můžete nalézt na Grass Blocku, Hlíně nebo Písku u Vody. Sugar Cane roste do výšky maximálně 3 blocků. Můžete je pokládat i na sebe a zvyšovat tak výšku. Výše jak 3 blocky ale nikdy neporoste.
Využití
Sugar Cane je jediný způsob jak získat Cukr a Papír. Zároveň je i důležitou součástí Dortu a Pumpkin Pie.
Vlastnosti
Sugar Cane má podobné vlastnosti jako Cactus. K zasazení nepotřebujete Hoe a nelze na něj použít Bone Meal. K zasazení potřebujete mít block Vody vedle sebe.
Pokud střelíte skrz Sugar Cane projde střela skrz. Sugar Cane lehce zničí voda nebo Láva.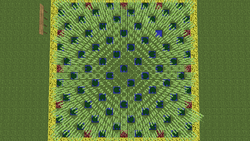 Sugar Cane farma s 80% účinností (maximum) s Lily Pady pro snadné procházení
Farmení
Sugar Cane musí být zasazen na Grass Block, Hlínu nebo Písek přímo vedle Vody. Sugar Cane roste pomalu a pouze v načteném Chunku.
Pomocí Pistonů a BUD Switch systému si můžete farmu zautomatizovat. Stačí zničit prostřední block a block nad ním se zničí automaticky.
Pokud odeberete vodu, Sugar Cane se nezničí a zůstane na místě, dokud nevyroste nebo neprovedete nějakou akci (Např znovu položení vody).
Zajímavosti
V nově vygenerovaném světe můžete nalézt Sugar Cane vysoký až 7 blocků.
Sugar Cane roste stejně rychle na Hlíně, Písku i Grass Blocku.
V kódu je Sugar Cane stále zapsán jako "reeds".
Itemy z klasického Minecraftu
Ad blocker interference detected!
Wikia is a free-to-use site that makes money from advertising. We have a modified experience for viewers using ad blockers

Wikia is not accessible if you've made further modifications. Remove the custom ad blocker rule(s) and the page will load as expected.