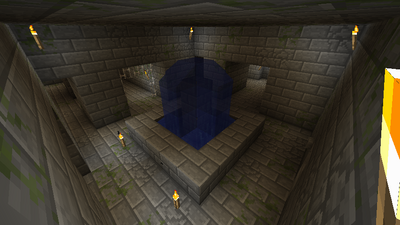 Stronghold s fontánou uprostřed.
Stronghold
je jednou z generovaných struktur, která se nachází v podzemí. Obsahuje několik místností, chodby,
schody
,
dveře
a několik pater. V jedné z místností je i portál do
Endu
.
Vzhled
Strongholdy se generují v různých velikostech. Jsou vytvořeny převážně ze Stone Brick, Mossy Stone Bricků a Cracked Stone Bricků. Můžete nalézt i truhly, které obsahují papír, knihy, Enchanted Book, Coal, Gold Ingot, Iron Ingot, Compass, Apple, Golden Apple, Ender Pearl, Iron Chestplate, Iron Boots, Iron Pickaxe, Iron Helm, Iron Leggings, Mapu, Iron Sword, Obsidian nebo Diamanty.
Každý Stronghold má jeden spawner na Silverfish. Místnosti mají různé typy vzhledu jako třeba vězeňské cely, knihovny, sklady apd.
Spawnování
Strongholdy mají limit v generování. Můžou být pouze 3 v jednom světě. Všechny jsou generovány na náhodných souřadnicích v poloměr 640 a 1152 blocků od souřadnic 0/0.
Stronghold můžete nalézt pomocí Eye of Ender.
Využití jako základna
Díky jejich velké velikosti, Strongholdy se zdají být dobrým místem pro vaši základnu. Jsou zde však nějaké výhody a nevýhody.
Výhody
Nevýhody
V Multiplayeru lidi hledají Strongholdy aby se dostali do Endu a tak můžou najít vaši základnu.
Těžbou zdí můžete probudit Silverfish a ty můžou začít ničit blocky okolo.
Potřebujete hodně Torch, aby jste celou oblast zabezpečili proti spawnování mobů. Nebo musíte být stále ve střehu a připraveni k boji.
Zajímavosti
Strongholdy bývají velké a rozsáhlé. Může se ale stát, že se vygeneruje Stronhold jen s několika místnostmi.
Ze všech Stone Brick blocků co jsou ve Strongholdu je 50% normální Stone Brick, 30% Mossy Stone Brick a 20% Cracked Stone Brick.
Ad blocker interference detected!
Wikia is a free-to-use site that makes money from advertising. We have a modified experience for viewers using ad blockers

Wikia is not accessible if you've made further modifications. Remove the custom ad blocker rule(s) and the page will load as expected.