Sticky Resin je item získávaný z: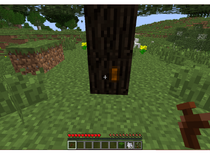 Sticky Resin na Rubber Tree.
Stickreed připraven ke sklizni Sticky Resin.
Můžete ho přepálit nebo extrahovat v Extractoru na Rubber. Ten pak využijete efektivněji. Sticky Resin můžete také položit na zem a má vlastnosti jako Soul Sand -> zpomaluje a zároveň snižuje fall dmg. Při rozbití je 10% šance, že se kompletně zničí. Sticky Resin se postupně generují na přirozeně vyrostlých Rubber stromech.
Crafting
Recepty
Itemy z módu Industrial Craft 2
 

Komponenty Nuclear Reactoru

Chlazení

Regulace
teploty

Plátování

Radioaktivní

Reflektory
 

Nezařazené

Pojistky

Ostatní
Ad blocker interference detected!
Wikia is a free-to-use site that makes money from advertising. We have a modified experience for viewers using ad blockers

Wikia is not accessible if you've made further modifications. Remove the custom ad blocker rule(s) and the page will load as expected.