Steam Locomotive je funkčností podobná Minecart with Furnace. Jeho výhodou je však větší efektivita a možnost řízení. GUI otevřete kliknutím pravým tlačítkem myši. Steam Locomotive je poháněna párou, tudíž k provozu potřebuje palivo a vodu. Pokud se srazí s hráčem, hráč okamžitě umře. Pokud ale má na sobě Engineer's Overalls, nic se mu nestane.
Palivo
Steam Locomotive má v sobě zabudované 2 tanky.
Pravý tank indikuje množství vody (max 4,000)
Vodu lze doplnit pravým kliknutím na Steam Locomotive s plným kbelíčkem, vložením kbelíčku přímo do Steam Locomotive nebo ji můžete naplnit i pomocí Liquid Loaderu.
Levý tank indukuje množství páry (max 16,000)
Aby se pára vytvořila, musí mít Steam Locomotive dostatek vody i paliva. Pára se tvoří až na 100 stupních. Jako palivo můžete použít jakýkoliv hořlavý block nebo item. Doporučujeme však použít Coal nebo Coal Coke. Steam Locomotive dokáže udržet až 4 stacky itemů.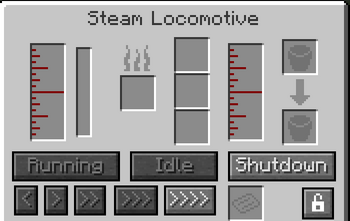 GUI Steam Locomotive
Mody
Steam Locomotive má 3 různé módy.
Shutdown - Vypnutý stav. Steam Locomotive se zastaví, zahájí se chladící proces.
Idle - Vyčkávací stav. Steam Locomotive spotřebovává palivo a tvoří páru. Ale stojí.
Running - Aktivní stav. Steam Locomotive se pohybuje.
Tyto módy lze přepínat i pokud Steam Locomotive přejede přes Locomotive Track. Ta má 3 druhy nastavení a podle barvy koleje přepne mód na Shutdown, Idle nebo Running.
Rychlosti
Steam Locomotive má i 5 rychlostních stupňů. 1 zpátečku a 4 různé rychlosti vpřed. Rychlosti nastavujete v GUI levým kliknutím myši. Na počtu ">" záleží i rychlost. Aby se Steam Locomotive pohybovala daným směrem, musíte mít zvolený "Running" mod.

Pokud kliknete na Steam Locomotive pravým tlačítkem myši s Crowbarem v ruce, Steam Locomotive se otočí. Lze k ní také připojovat další vozíčky, také pomocí Crowbaru. Při spojování musíte držet ⇧ Shift a kliknout pravým tlačítkem myší na oba vozíky.
Steam Locomotive můžete i nabarvit pomocí všech 16 druhů barviv. Steam Locomotive má 2 druhy barev. První (primární) je barva trupu. Druhá (sekundární) je proužek okolo celého trupu.
Pokud Steam Locomotive přejede přes Whistle Track bude houkat. Výšku houkání lze nastavit pomocí Whistle Tuneru.
=Tickety
Poslední slot je pro Golden Railway Ticket nebo Railway Ticket. Ten určuje kam má Locomotiva jet. Můžete tuto cestu i uzamknout aby nešla změnit.
Crafting
RailCraft
 

Ostatní

Armor

Batohy

Bore Heady

Nástroje
Ad blocker interference detected!
Wikia is a free-to-use site that makes money from advertising. We have a modified experience for viewers using ad blockers

Wikia is not accessible if you've made further modifications. Remove the custom ad blocker rule(s) and the page will load as expected.