Stained Glass je barevné sklo. Od verze 1.7+ je v klasickém, čistém Vanilla Minecraftu. Toto barevné sklo přidává také mód Forestry.
Vanilla
Crafting
Podle druhu použitého barviva bude výsledná barva Stained Glass
Využití
Forestry
K obarvení potřebujete Wax Cast, Propolis a jakékoliv z 16 barviv z Vanilly. Na jeden Wax Cast vytvoříte 10 blocků Stained Glass.
Stained Glass se vyrábí v Thermionic Fabricator.
Crafting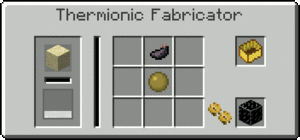 Ad blocker interference detected!
Wikia is a free-to-use site that makes money from advertising. We have a modified experience for viewers using ad blockers

Wikia is not accessible if you've made further modifications. Remove the custom ad blocker rule(s) and the page will load as expected.