Soul Sand
Typ
Pevný Block
ID
88
Obnovitelný
Ne
Blast Resistance
2.5
Stackovatelné
Ano(64)
EMC hodnota
49
Mod
Vanilla
Soul Sand (mezi hráči známý jako Slow Sand) je hnědo-šedý block.
Texturou se podobá hlíně, ale má své specifické vlastnosti. Soul Sand dokáže zpomalit jakéhokoliv hráče nebo moby.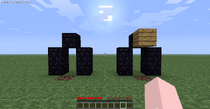 Zobrazení One-Way brány s a bez blocku nad Soul Sandem
Těžba
Dirt lze těžit čímkoliv, nejrychlejším způsobem je použítí lopaty.
Výskyt
Nachází se pouze v Netheru, obvykle v blízkosti lávových jezer.
Využití
Soul Sand je nutný pro pěstování Nether Wartu, které jsou základem mnoha lektvarů.
Ve více blocích se používá jako zpomalovací past. Efekt lze zvýšit, stačí když na Soul Sand nalijete vodu.
Dalším využitím jsou One-Way brány:
Postavení Soul Sandu před 2 blocky vysokým vchodem zabrání, aby tím vchodem mob nebo hráč prošel. Bohužel, zručný hráč to "proskočí".
Zajímavosti
Při umístění Soul Sandu nad ledovou plochu se jeho účinek výrazně zvýší.
Ad blocker interference detected!
Wikia is a free-to-use site that makes money from advertising. We have a modified experience for viewers using ad blockers

Wikia is not accessible if you've made further modifications. Remove the custom ad blocker rule(s) and the page will load as expected.