Soldering Iron může být použit k připojení specifických Electron Tubes (Tin Electron Tube, Copper Electron Tube, Bronze Electron Tube nebo Iron Electron Tube) k Circuit Boards a pro odpojení Circuit Boards z Electrical Engine a nových Multifarem. Pro připojení Electron Tubes k Circuit Board pomocí Soldering Iron dejte Soldering Iron do ruky a klikněte pravým tlačítkem myši, což vám otevře GUI Soldering Ironu.
Crafting
GUI
Na vrchu černého pole najdete volič pro určení účelu Circuit Board. Aktuálně jsou dostupné tři mody:
Electric Engine
Managed Farms
Manual Farms
Vybrání jednoho z těchto modů určuje v jakém typu stroje bude Circuit Board mít efekt.
Nalevo je pět slotů kam se vkládají Electron Tubes. Po vložení se objeví jméno efektu hned napravo od Electron Tube slotů. Seznam ostatních efektů najdete níže. Napravo jsou dva sloty pro Circuit Board, do vyššího slotu se vkládá prázdný Circuit Board a vpravo je slot ve kterém se objěví dokončený board. Pár bodů podle kterých musíte postupovat pro použití GUI úspěšně bez ztráty jakýchkoliv itemů:
Nepoužívejte jiné circuit boards mimo Enhanced Circuit Board jelikož ostatní ničí elektron tubes a nechají circuit board bez aktualizace (nezáleží kolik elektron tubes vložíte)
Není možné odstranit Electron Tube z Circuit Boards Přestože je možné přepájet Circuit Board s novými Tubes, staré Tubes stále zmizí.
Nejsilnější circuit pro vylepšení Electrical Engine je z 2tinů a Dvou bronzů. Díky tomu stroj spotřebuje 50EU/t, ale vytváří 14MJ/t.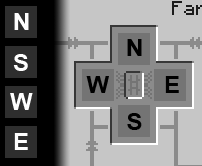 Rozložení Electron Tubes ve farmě.
Pro Managed Farms rozhoduje pořadí ve kterém jsou Tubes přidány do Circuit Board orientaci různých částí farmy.
Pozice 1:Severní strana farmy
Pozice 2:Jižní strana farmy
Pozice 3:Východní strana farmy
Pozice 4: Západní strana farmy
Circuit Boards
Máme několik různých typů Circuit Boards:
Přidáním Circuit Boards do stroje je jednoduché a nevyžaduje použití Soldering Ironu, Stačí položit Circuit Board, který jste vylepšili dvěma Tubes do odpovídajcích slotů stroje nebo Multi Farm.
Odstranění Circuit Boardů ze strojů vyžaduje Soldering Iron a spotřebuje jeho výdrž, ale při přidávání elektronek do Circuid Boardů nespotřebuje výdrž. Pro odstranění Circuit Board ze stroje vezměte Soldering Iron a klikněte pravým tlačítkem myši na Circuit Board ve stroji, měl by se vám to objevit ve volném slotu v inventáři.
Poznámka: Je možné stackovat Circuit Boards, které mají stejné vlastnosti.
Efekty Electron Tubes
Následující tabulky zobrazují kolik Tubes můžete maximálně umístit a jaký mají efekt.
Electrical Engine
| Typ Tube | Efekt (Max stack) | Změna ve vstupu EU | Změna ve výstupu MJ | MJ:EU poměr (Normal 2:6 = 1:3) |
| --- | --- | --- | --- | --- |
| Copper | Choke(1) | -2 EU/t | -1 MJ/t | 1:4 (Nejhorší) |
| Tin | Boost I(2) | +7 EU/t | +2 MJ/t | 4:13 |
| Bronze | Boost II(2) | +15 EU/t | +4 MJ/t | 6:21 = 2:7 |
| Iron | Efficiency(1) | -1 EU/t | Beze změny | 2:5 (Nejlepší) |
Managed Farm
Manual Farm
Ad blocker interference detected!
Wikia is a free-to-use site that makes money from advertising. We have a modified experience for viewers using ad blockers

Wikia is not accessible if you've made further modifications. Remove the custom ad blocker rule(s) and the page will load as expected.