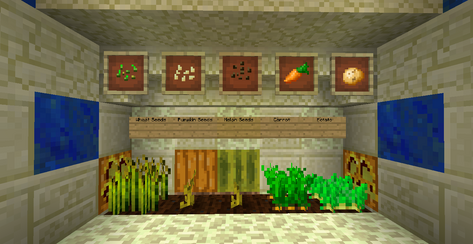 Vyobrazení všech seedů ve Vanille.
Seeds
Seeds

Typ
Item
ID
59
Obnovitelný
Ano
Blast Resistance
0
Stackovatelné
Ano (64)
EMC hodnota
16
Mod
Vanilla
Seeds (semínka) se využívají k pěstování Wheat. Můžete je získat zničením vysoké trávy nebo zničením plně vyrostlého obilí. Po zničení Wheat může padnout 0-3 kusy Seeds.
Růst a podmínky
K zasazení Seeds potřebujete hlínu nebo Grass Block upravený pomocí motyky. Seedy potřebují Light level alespoň 9 k jejich růstu. Seedy rostou rychleji pokud je hlína zavlažována vodou. K urychlení růstu můžete použít Bone Meal. Od verze 1.5 musíte použít 2-5 kusů k plnému vzrůstu (dříve stačil pouze jeden).
Pokud vaši obdělanou půdu pošlapete (nebo nějaký mob), seedy se zničí nebo když je Wheat plně vyrostlý tak padnou pouze Seedy.
Sklízení
Při plném vzrůstu a následovném zničení vypadne 1 Wheat společně s 0-3 seedy. Pokud je sklidíte moc brzy, dropnou pouze 1 seed a žádné obilí. První stádia růstu vypadají podobně jako ostatní seedy.
Rozmnožování
Seedy můžete použít i k rozmnožení slepice. Pokud jím nakrmíte 2 slepice, které jsou blízko sebe vznikne vám malé kuře.
Zajímavosti
I když je ve hře více seedů, seedy obilí se stále jmenují "Seeds".
Wheat můžete sbírat velmi rychle pokud ho polijete vodou.
I když Seedy pochází z vysoké trávy, vyroste z něj obilí.
Následující obrázek zobrazuje stádia růstu Seedů.
Pumpkin Seeds
Pumpkin Seeds

Typ
Item
ID
104
Obnovitelný
Ano
Blast Resistance
0
Stackovatelné
Ano (64)
EMC hodnota
16
Mod
Vanilla
Pumpkin Seeds rostou jako stonek. Až doroste maximálního vzrůstu vyroste vedle něj Pumpkin. Růst stonku můžete urychlit pomocí Bone Mealu. Stonek musíte zasadit na obdělanou půdu motykou. Pumpkin může vyrůst jak na obdělané půdě tak i na normální hlíně.
Pumpkin Seedy můžete získat rozložením dýně v Crafting Table. Pumpkin naleznete přirozeně v přírodě (na rozdíl od Melon Seeds.
Crafting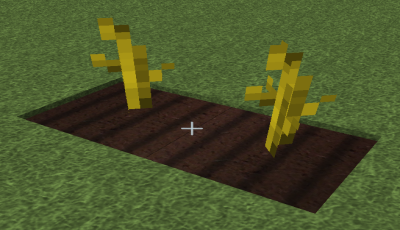 Melon Seeds
Melon Seeds

Typ
Item
ID
105
Obnovitelný
Ano
Blast Resistance
0
Stackovatelné
Ano (64)
EMC hodnota
16
Mod
Vanilla
Melon Seeds lze najít v opuštených dolech nebo obchodováním s vesničany.
Melon Seedy se zasazují stejně jako Wheat seedy nebo Pumpkin seedy, tj na obdělanou půdu pomocí motyky. Pěstování je stejné jako u Pumpkin Seeds.
Melon Seedy rostou déle než všechny ostatní seedy. Po rozbití melounu, který vyroste, padne 3-7 částí melounu.
Melon Seedy potřebují světlo stejně jako ostatní seedy. Světlo z Torch je minimum, které Melon seedy potřebují k růstu
Automatické farmení
K zautomatizování farmy na melouny můžete použít pistony. Když posunete Melon Block pistonem tak se zničí a vypadnou jen části melouny. Ty pak můžete spláchnout vodou do určitého místa.
Crafting
Itemy z klasického Minecraftu
Ad blocker interference detected!
Wikia is a free-to-use site that makes money from advertising. We have a modified experience for viewers using ad blockers

Wikia is not accessible if you've made further modifications. Remove the custom ad blocker rule(s) and the page will load as expected.