Seed Bag občas vypadává z rostlin, které zasadíte do Cropu. Seed Bag obsahuje semínka rostliny, kterou jste sebrali a můžete ho použít na další Crop.

Při sebrání má Seed Bag název "Unknown". K zjištění růstu, odolnosti, kvality a výnos rostliny, musíte Seed Bag vložit do Cropnalyzeru. Ten také určí typ rostliny. Po vyndání z Cropnalyzeru již nebude Seed Bag "Unknown", ale bude mít jméno dané rostliny a u něj vypsané vlastnosti.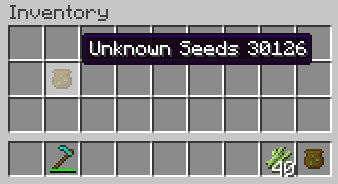 Itemy z módu Industrial Craft 2
 

Komponenty Nuclear Reactoru

Chlazení

Regulace
teploty

Plátování

Radioaktivní

Reflektory
 

Nezařazené

Pojistky

Ostatní
Ad blocker interference detected!
Wikia is a free-to-use site that makes money from advertising. We have a modified experience for viewers using ad blockers

Wikia is not accessible if you've made further modifications. Remove the custom ad blocker rule(s) and the page will load as expected.