Saplings

Typ
Rostlina
ID
6
Obnovitelný
Ano
Stackovatelné
Ano (64)
EMC hodnota
32
Mod
Vanilla
Saplings (sazenice) jsou nezbytnou součástí hry. Díky Saplingům můžete zasadit strom a vypěstovat tak listí. Máme 6 druhů saplingů: Oak, Spruce, Jungle, Birch, Acacia a Dark Oak.
Všechny saplingy mají šanci 1/20, že vypadnou po zničení listí kromě Jungle. Ty mají šanci 1/40. Každý Sapling má svojí vlastní barvu dřeva i listí.
Růst
Saplingy mohou růst na hlíně nebo Grass Blocku. Po určité době a light levelu větším jak 9 vyroste strom. Oak a Birch Saplingy potřebují k růstu 6 blocků na výšku. Spruce potřebuje 7. Strom může instantně vyrůst pomocí Bone Meal.
Pokud položíte Jungle Sapling do čtverce 2x2,  tak vyroste Jungle strom, který je vysoký až 31 blocků. Musí mít však dostatek místa. K instantnímu růstu stačí použít Bone Meal jen na jeden ze Saplingů.
Zajímavosti
Pokud hráč stojí na stejném blocku jako Sapling a ten následně vyroste, způsobí hráči dušení a ztrácí tak životy.
Sapling potřebuje minimálně 6 blocků na výšku aby vyrostl.

Druhy stromů a vedle nich Saplingy.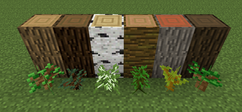 Všechny dřeva i se Saplingama.
Itemy z klasického Minecraftu
Ad blocker interference detected!
Wikia is a free-to-use site that makes money from advertising. We have a modified experience for viewers using ad blockers

Wikia is not accessible if you've made further modifications. Remove the custom ad blocker rule(s) and the page will load as expected.