Rei's Minimap je mód, který přidává do Minecraftu minimapu. Tato minimapa má mnoho funkcí, včetně přidávání waypointů nebo vyhledáváni Slime Chunků.
Rei's Minimap můžete stáhnout na oficiálním fóru:
Nejnovější Verze a Fórum

Instalace
Soubor ReisMinimap.zip vložte do složky .minecraft/mods. Ke spuštění musíte mít v klientovi nainstalovaný Minecraft Forge.
Vzhled minimapy
Minimapa se standartně zobrazuje v pravém horním rohu obrazovky. Pozici lze změnit v menu (klávesová zkratka M). Také si můžete nastavit jestli minimapa bude mít tvar čtverce nebo kruhu či jestli bude mít nějaké ohraničení.
Pod minimapou se zobrazují vaše současné souřadnice.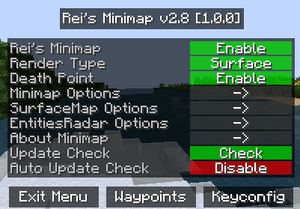 Hlavní menu Rei's Minimap
Menu
Do menu se dostanete stisknutí klávesy "Menu Key". Standartně je nastavena na M. V tomto menu naleznete:
Vypnutí/zapnutí minimapy
Typ renderování mapy (Povrch, biomy nebo jeskyně)
Vypnutí/zapnutí vytváření posmrtných waypointů
Nastavení Minimapy (typ, velikost a pozice mapy, úprava zobrazení souřadnic)
Nastavení povrchové mapy (zobrazení Slime Chunků, zobrazení sněhu, osvětlení mapy)
Nastavení radaru entit (zobrazování hráče, mobů a celkové zapnutí/vypnutí)
Nastavení značek (vypnutí/zapnutí)
Kontrola aktualizace
Minimap Options
Navíc zde máte 3 tlačítka
Exit Menu - Vypne menu. Lze provést i pomocí klávesy ESC
Waypoints - Vytváření, mazání nebo upravování waypointů.
Keyconfig - Nastavení klávesových zkratek
Funkce Radar entit a zobrazení jeskyň jsou na multiplayerových serverch vypnuty.
Waypointy
Waypointy jsou kosočtvercové ikony, které uvidíte na mapě včetně jejich vzdálenosti. Používají se k označení míst, aby jste si je lépe zapamatovali nebo se automaticky vytvoří na místě vaší smrti (pokud máte zapnutou funkci Death Points).
EntitiesRadar Option
Waypoint vytvoříte pomocí klávesové zkratky nebo přes Menu Rei's Minimap→Waypoints tlačítkem Add. V tomto menu můžete waypoint upravit, smazat a vidět všechny současné waypointy ve všech světech.
Waypointy lze umístit kamkoliv a můžou mít jakoukoliv barvu.
Slime-Chunk Displays
Tato funkce na minimapě zvýrazní červeně všechny Slime Chunky, takže již nemusíte dlouho hledat.
Ad blocker interference detected!
Wikia is a free-to-use site that makes money from advertising. We have a modified experience for viewers using ad blockers

Wikia is not accessible if you've made further modifications. Remove the custom ad blocker rule(s) and the page will load as expected.