Redstone Repeater
Typ
Pevný Block
ID
93
Obnovitelný
Ano
Stackovatelné
Ano (64)
EMC hodnota
N/A
Mod
Vanilla
Redstone Repeater je speciální block, který spolupracuje s Redstonem. Hlavní funkce je zpožďování signálu. Repeater také prodlužuje délku signálu. Má jeden vstup a jeden výstup.
Crafting
Redstone Repeater zapojený jako cyklující hodiny.
Využití
Využívá se k obnovení redstone signálu což umožňuje vést signál dále než 16 blocků. Kliknutím pravým tlačítkem myši na Repeater, můžete nastavit zpoždění 2-8 tiků ve hře (násobky dvema). Takže zpoždění může být od 0.1 do 0.4 vteřin.
Je možné vytvořit i cyklující "hodiny", které budou opakovat signál. Tvoří se z jednoho nebo dvou Repeatrů, několika kusy Redstone a Redstone Torch. Sestavení můžete vidět na obrázku vpravo.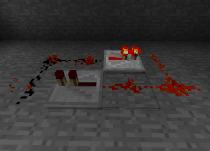 Další způsob zapojení hodin.
Lze vytvořit i logické obvody. Návody jak vytvořit tyto obvody najdete zde: Minecraft Redstone Tutoriály
Zajímavosti
Block vypadá jako dvě Redstone Torch přidělané na Pressure Plate.
V kódu je Repeater označen jako "diode".
Pokud máte Repeater v tunelu vysokém dva blocky, působí jako blokátor a vy nemůžete projít.
Itemy z klasického Minecraftu
Ad blocker interference detected!
Wikia is a free-to-use site that makes money from advertising. We have a modified experience for viewers using ad blockers

Wikia is not accessible if you've made further modifications. Remove the custom ad blocker rule(s) and the page will load as expected.