Redstone Lamp
Typ
Pevný Block
Obnovitelný
Ano
Stackovatelné
Ano (64)
EMC hodnota
N/A
Mod
Vanilla
Redstone Lamp (lampa) je block podobný Glowstone a pokud ho napájíte, rozsvítí se. Má light level 15 což je o jeden level více než Torch. Stejně jako ostatní svítící blocky, Redstone lampa rozpouští sníh a led.
Crafting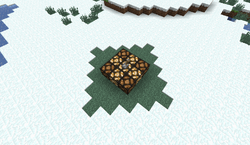 Napájení Redstone lamp a rozpouštění sněhu kolem nich.
Využití
Pokud je lampa nebo block vedle ní napájen tak se rozsvítí. Lampu lze využít k dekorativním účelům a zároveň k zdroji světla. Můžete lampy napojit na spínač a po odchodu zhasnout. Tento způsob se využívá hojně v mob trapkách.
Redstone lampy můžete použít i k vytvoření sedmi segmentového displaye.
Můžete si k lampám navést Daylight Sensor a vytvořit systém aby se vám lampy zapnuli jakmile nastane noc. Možnosti využití jsou nekonečné.
Zajímavosti
Itemy z klasického Minecraftu
Ad blocker interference detected!
Wikia is a free-to-use site that makes money from advertising. We have a modified experience for viewers using ad blockers

Wikia is not accessible if you've made further modifications. Remove the custom ad blocker rule(s) and the page will load as expected.