Propolis je item ze Stringy Comb získaný pomocí Centrifuge. Tento Comb produkují pouze Diligent Bee, Unweary Bee a Industrious Bee včely v Apiary nebo Alveary. Můžete ho také získat pokud vložíte Honey Drop do Squeezeru.
Crafting
Při použití Stringy Comb v Centrifuge je 40% šance na produkci Honey Drop a 100% šance na produkci Propolis.
Využití
Použitím 1 Propolis v Centrifuge vytvoří 1 Sticky Resin.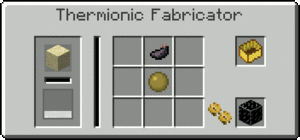 Ad blocker interference detected!
Wikia is a free-to-use site that makes money from advertising. We have a modified experience for viewers using ad blockers

Wikia is not accessible if you've made further modifications. Remove the custom ad blocker rule(s) and the page will load as expected.