Ad blocker interference detected!
Wikia is a free-to-use site that makes money from advertising. We have a modified experience for viewers using ad blockers

Wikia is not accessible if you've made further modifications. Remove the custom ad blocker rule(s) and the page will load as expected.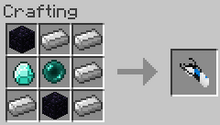 Defaultní portálová puška je hlavní exponát módu, tenhle item umoznuje delat hracum modrý a oranžový portál.Levým-klinutím vystřelíte modrý portál, pravým kliknutím vystřelíte oranžový portál. Když hráč vstoupí do modrého portálu portálu tak stejnou rychlostí i z portálu výjde. Tahle teleportace funguje pro všechny itemy (vyhozené itemy z inventáře), koule (napr. fire ball, snowball) , minecarty, lodičky, kostky z tohohle modu, všechny moby a hráče. Portály můžou být smazány klávesou R (kdyz máte portal gun v ruce)
Existuje víc typů portal gun které mužou být vycrafteny, napřiklad Atlas Portal Gun , P-body Portal Gun , Single-Colored Portal Guns, Potato Portal Gun, Bacon Portal Gun. Všechny tyhle zbraně fungují jako Default Portal Gun
Hráč může střelit portál na měsíc.