Part Builder se používá ve spojení s Patterny vyrobenými ve Stencil Table pro vytvoření dílů pro nástroje, které se sestavuji v Tool Station nebo jeho vylepšené veri, Tool Forge. Vedla Part Builderu může být položena Pattern Chest, ze které můžete přímo brát patterny v GUI Part Builderu. V případě přistavění Pattern Chesty k Part builderu se zobrazí na levé straně GUI inventář chestky.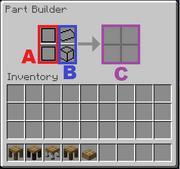 Vložte Pattern do levé části GUI (část A na obrázku) a ingot/y materiálu vpravo nahoru, bloky materiálu vpravo dolů (část B). Následně odeberte potřebnou součástku z pravé části GUI (část C). Jestliže vznikne při 
craftingu nějaký Shard, musíte ho odebrat, jinak nebude možné pokračovat. Shard představuje 0,5 ingotu/bloku, lze ho tudíž použít jako materiál ke craftingu součástí.
Materiály
Edit
Ve verzi 1.3.5 a dále jdou pouze některé (nekovové) materiály použít v Part Builderu (Wood, Stone, Flint, Netherrack, Slime Crystal, Cactus, Bone, nebo Paper Stack). Ostatní materiály se používají ve spojení se Smeltery.
Jako u ostatních stolů v Tinkers' Construct, se barva noh mění podle použitého dřeva.
Ad blocker interference detected!
Wikia is a free-to-use site that makes money from advertising. We have a modified experience for viewers using ad blockers

Wikia is not accessible if you've made further modifications. Remove the custom ad blocker rule(s) and the page will load as expected.