Ad blocker interference detected!
Wikia is a free-to-use site that makes money from advertising. We have a modified experience for viewers using ad blockers

Wikia is not accessible if you've made further modifications. Remove the custom ad blocker rule(s) and the page will load as expected.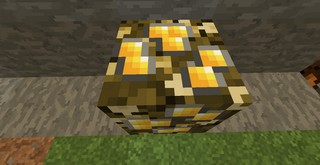 Oreberry bush je keřík, na kterém rostou berries (bobule) kovů nebo experience.
Vlastnosti
Edit
Tyto keříky mají několik speciálních vlastností:
Keříky můžete najít různě roztroušené v jeskyních, jsou relativně vzácné.
Když keřík zasadíte (může být zasazen pouze v prostředí s úrovní světla <13, roste pouze při <10), bude mít velikost jen asi 1/4 bloku. Za nějakou dobu poroste do 1/2 bloku a až dosáhne plné velikosti bloku, můžete z něj sebrat bobule (jsou to "kulaté" plošky na povrchu keříku). Seberete je kliknutím pravým tlačítkem. Bobule se postupem času objeví znovu.
InterakceEdit
Malý keřík se chová jako slab, respektive na něj můžete jít (beze skoku) a přímo z něj na další blok. Keříky dávají stejně jako kaktus při doteku damage.
Typy keříků
Edit
| | | |
| --- | --- | --- |
| Essence oreberry bush | | Dává bobule, které po použití přidají experience. Nedají se tavit. Bude v příštích updatech modu nahrazen Silver oreberry bushem. Roste při jakémkoliv světle. |
| Gold oreberry bush | | Dává Gold (zlaté) oreberry. Ty se taví ve Furnace (pec) a vznikají z nich Gold Nuggety. |
| Iron oreberry bush | | Dává Iron (železné) oreberry. Ty se taví ve Furnace (pec) a vznikají z nich Iron Nuggety. |
| Copper oreberry bush | | Dává Copper (měděné) oreberry. Ty se taví ve Furnace (pec) a vznikají z nich Copper Nuggety. |
| Tin oreberry bush | | Dává Tin (cínové) oreberry. Ty se taví ve Furnace (pec) a vznikají z nich Tin Nuggety. |
| Aluminium oreberry bush | | Dává Aluminium (Hliníkové) oreberry. Ty se taví ve Furnace (pec) a vznikají z nich Aluminium Nuggety. |