Obsidian
Typ
Pevný Block
ID
49
Obnovitelný
Ano
Blast Resistance
6000
Nástroj
Stackovatelné
Ano(64)
EMC hodnota
64
Mod
Vanilla
Obsidian je tmavě fialovo-černý block. Normálně se Obsidian negeneruje, jedinou výjimkou jsou sloupy v Endu.
V Netheru se Obsidian vyskytuje pouze po vytvoření hráčského portálu z normálního světa.
Těžba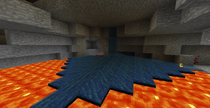 Tekoucí voda tvořící Obsidian
Těžba jednoho blocku Obsidianu trvá 9,38 sekund a dá se jako jedinný block v celé hře vykopat pouze diamantovým krumpáčem. I pomocí enchantu Efficiency V trvá těžba téměř 3 sekundy.
Výskyt
V přírodě se dají najít v podzemí, nejčastěji ve výšce 10, kde jsou lávová jezírka a zároveň tam stékají některé prameny vody.
Kromě toho se Obsidianové blocky dají manuálně vytvořit. Stačí zalít netekoucí lávu tekoucí vodou - což je nejspíše nejlepší na krajích obrovských lávových jezer v Netheru.
Využití
Hlavním využitím Obsidianu je stavba portálu do Netheru.
Díky jeho vysoké odolnosti vůči výbuchům se používá také jako ochrana před Creepery nebo TNT, protože jedině výbuch modré střely od Withera jej zničí. Minimální velikost Nether portálu je 4x5 a maximální 23x23.
Recepty
Zajímavosti
Vykopat Obsidian rukou by trvalo 4 minuty a 10 sekund. Obsidian by však ani nevypadl.
Těžba diamantovým krumpáčem pod vodou (bez stání na pevném) by trvala 3 minuty a 54 sekund, hráč by se ale mezitím utopil.
Od verze 1.7+ lze stavět Nether portály vetší jak 4x5
Ad blocker interference detected!
Wikia is a free-to-use site that makes money from advertising. We have a modified experience for viewers using ad blockers

Wikia is not accessible if you've made further modifications. Remove the custom ad blocker rule(s) and the page will load as expected.