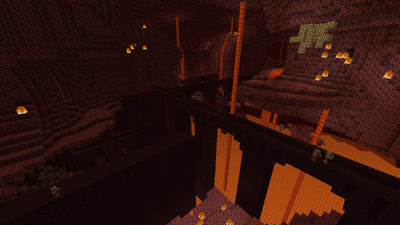 Nether pevnost.
Nether Fortress
(Nether pevnost) je generovaná struktura v
Netheru
. Jsou postaveny z
Nether Brick
.
Nether Brick Fence
a
Nether Brick schodů
. Jsou jediným místem kde můžete nalézt
Nether Wart
nebo
Blaze
.
Struktura
Nether Pevnost je velký komplex vytvořený převážně z Nether Brick. Tunely mohou vést i skrz Netherrack.
Uvnitř Nether Pevnosti je větší šance na spawn Magma Cube. Spawnují se zde i mobové, kteří se jinde nespawnují, a to: Blaze, Skeleton, Wither Skeleton.
Blazové se spawnují pomocí spawnerů na několika místech. Blaze Spawner je vždy na balkónu oploceném Nether Brick Fence.
Zajímavosti
V Nether Pevnosti jste v bezpečí před Ghasty.
Nether Pevnost se vygeneruje i když budete mít vyplé "generování struktur".
V Nether Pevnosti se můžou spawnout Mushrooms.
Ad blocker interference detected!
Wikia is a free-to-use site that makes money from advertising. We have a modified experience for viewers using ad blockers

Wikia is not accessible if you've made further modifications. Remove the custom ad blocker rule(s) and the page will load as expected.