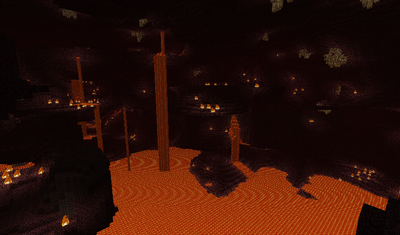 Výhled na Nether.
Nether
(peklo) je druhou dimenzí minecraftu a lze se do něj dostat skrz Nether Portal vytvořený z
Obsidianu
.
Nether můžete také využít k rychlému cestování na dlouhé vzdálenosti ve světě. Nether je převážně složen z lávy, Netherracku a Soul Sandu. Můžete zde najít i pár mobů jako Ghast, Magma Cube, Zombie Pigmen a další.
Do Netheru se hráč vydává kvůli získání Glowstone Dustu.
Terén
Převážná část povrchu je pokryta lávou a Netherrackem. Naleznete tu však i cesty z Gravelu a hořící blocky. Občas narazíte i na Mushrooms.
V Netheru se generují i Nether pevnosti s Nether Wart uvnitř. Stejně jako svět je i Nether chráněn Bedrockem.
Prostředí
Nether nemá cyklus den/noc a žádné počasí. Jediné světlo pochází z ohně, lávy a Glowstonu.
V Netheru nefunguje kompas.
Blocky a struktury
| | |
| --- | --- |
| Červená | Nelze získat legálně. Musíte použít příkaz /give. |
| Světle Modrá | Nezískatelné |
| Modrá | Přístupné v Creative modu.. |
Přírodně generováno
Přírodně vytvořeno
Přírodně vytvořeno se myslí blocky, které jsou ve hře položeny v základu a ne hráčem.
Struktury
Tyto blocky se generují jako části Nether pevností.
Mobové
Nether je domov několika druhů mobů. Jelikož je zde spousta lávy, tak nezraňuje moby.
Ghast je obrovská létající medůza. Je 4x4x4 blocků velká a střílí Firebally. Ty hráč může odrazit a zasáhnout ji což ji způsobí okamžitou smrt. Po zabití z ní dropuje Gunpowder a Ghast Tear.
[Zombie Pigmen]] se spawnuje ve skupinkách a není agresivní. Agresivní se stanou až po útoku hráčem. Pokud hráč zaútočí, seběhnou se Zombie Pigmeni z dálky 32 blocků. Po zabití dropují Rotten Flesh a Gold Nugget.
Portály a rychlé cestování
K přístupu do Netheru potřebujete Nether Portál. Můžete postavit dva typy portálu. Po dokončení stavby ho zapalte pomocí Flint and Steel. Portal musí být z Obsidianu.
Dva způsoby postavení Nether Portálu.
Jakákoliv uběhlá vzdálenost v Netheru se násobí 8 ve světě. Tzn 1 block v Netheru = 8 blocků v Overworldu. Díky tomuto způsobu se dá rychle pohybovat ve světě (když si postavíte další Nether Porál).
Zajímavosti
Gravel je jedním ze třech blocků, které naleznete v Netheru i ve světě.
Stisknutím F3 se vám zobrazí biom Hell.
Ad blocker interference detected!
Wikia is a free-to-use site that makes money from advertising. We have a modified experience for viewers using ad blockers

Wikia is not accessible if you've made further modifications. Remove the custom ad blocker rule(s) and the page will load as expected.