Mystical Plinth

Typ
Pevný Block
ID
580:15
Nástroj
Stackovatelné
Ano (64)
Mod
OmniTools
Mystical Plinth je podstavec pro Forge Lexicon. Pokud ho vyrobíte a položíte nemá žádné vlastnosti a nelze s ním nic udělat. Musíte mít ještě Forge Lexicon. Pravým kliknutím na položený Mystical Plinth s Forge Lexiconem v ruce vytvoříte nepřenosný Lexicon, který vypadá podobně jako Enchantment Table.
Po položení knihy zasáhne místo několik blesků a ozve se hřmění. Tento efekt je pouze pro znázornění spojení Plinthu a Lexiconu a nezraní hráče ani moba. Také svítí jako Glowstone.
Pokud chcete znovu oddělit Lexicon on Plintu, držte ⇧ Shift a klikněte na něj pravým tlačítkem myši s Prototype OmniWrench.
Crafting
K výrobě musíte použít Cyan Wool.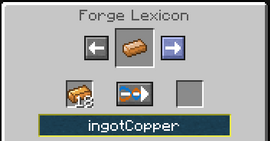 Změna 18 Copper Ingotů na jiný typ
Využití
Dokáže změnit například Copper Ingot z módu IndustrialCraft 2 na Copper Ingot z módu Redpower 2 apd.
K otevření GUI klikněte pravým tlačítkem myši. Do levého dolního slotu se vkládají itemy, v prostředním se vybírá výsledná verze a po dokončení se změněný item objeví vpravo dole.
Pro konverzi klikněte na tlačítko se šipkou.
Ad blocker interference detected!
Wikia is a free-to-use site that makes money from advertising. We have a modified experience for viewers using ad blockers

Wikia is not accessible if you've made further modifications. Remove the custom ad blocker rule(s) and the page will load as expected.