Všechny možné velikosti a některé možné materiály Multifarem.
MultiFarmy jsou novinkou ve Forestry od verze 2.0.0. Tyto struktury jsou mnohem větší a složitější než staré farmy (Farm, Turbary...), které mají své crafting recepty v defaultu zakázané. MultiFarmy mají větší nastavení, ale vyžadují stálý přísun Fertilizeru a vody.
Základní Materiál
Ke konstrukci MultiFarmy můžete použít všechny typy bricků z Vanilly:
Podle typu bricku má i vzhled budoucí farmy.
Komponenty
Stavba MultiFarmy
MultiFarmy jsou jedním z největších Multi-blokových struktur. Všechny verze MultiFarem jsou vysoké 4 blocky. Můžete je postavit v rozměrech 3x3, 3x4, 4x4 nebo 5x5. Čím větší farma, tím více místa pro sázení.
Druhá řada od vrchu musí být sestavena z Farm Blocků. Zbytek můžete doplnit komponenty.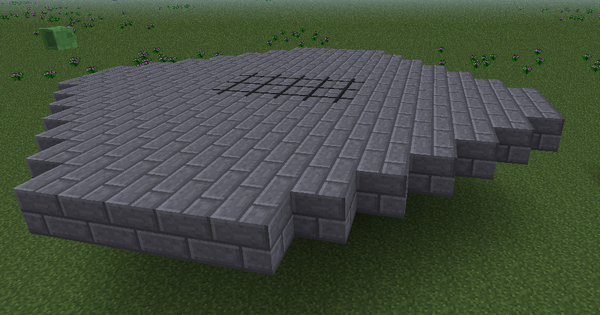 Jakmile postavíte primární konstrukci, musíte také určit rozlohu farmy. Můžete ji postavit z jakýkoliv Bricků. Tato podlaha může být v jakékoliv výšce farmy. Může být i pod primární konstrukcí, ale nikdy ne nad ní.
Rozvržení MultiFarmy
Typ
ŠxDxH
Radius
Místo (ŠxD)
Farm Blocky
Použitelný
prostor
Náhled
Malá
3x3x4
4 Blocky
11x11
36
72

Střední
3x4x4
5 Blocků
12x13
48
110

Středně velká
4x4x4
5 Blocků
14x14
64
120

Velká
3x5x4
6 Blocků
15x17
60
156

Velmi velká
5x5x4
6 Blocků
17x17
100
180
Seznam použitelných blocků:
Stone Brick
Chiseled Stone Brick
Cracked Stone Brick
Mossy Stone Brick
Smooth Sandstone
Chiseled Sandstone
Bricks
Nether Brick
| | | |
| --- | --- | --- |
| Sestavení | | |
| Fukční? | Ano, jakékoliv sestava. | Neplatná sestava. |
Konfigurace Farmy
Chcete-li nastavit farmu, aby produkovala něco jiného než stromy, musíte vytvořit Intricate Circuit Board v Carpenteru a do ní vložit elektronky. MultiFarma je rozdělana do 4 sekcí a každá se dá nastavit na jiný druh farmy. V Circuit Board je nastavení následující:
Sever
Jih
Východ
Západ
Farma má také 2 módy, Managed a Unmanaged.

Managed Farmy automaticky pokládají podklad (například hlínu) a zasazují Seedy/Saplingy. Unmanaged farmy jsou manuální, ale mají automatické sklízení. Farma musí mít jeden mód a nemůžete kombinovat dva módy v jedné farmě.
Módy nastavíte pomocí Soldering Iron v Circuit Boardu klikáním na levou nebo pravou šipku.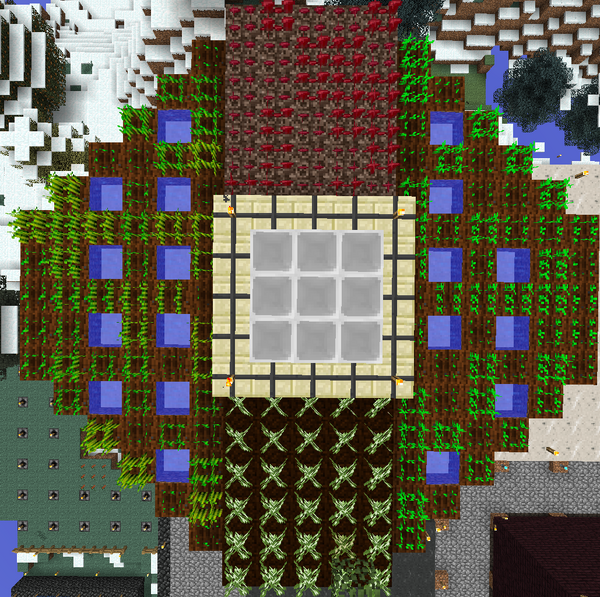 Příklad MultiFarmy se čtyrmi různými farmy. Server farmy je nahoře.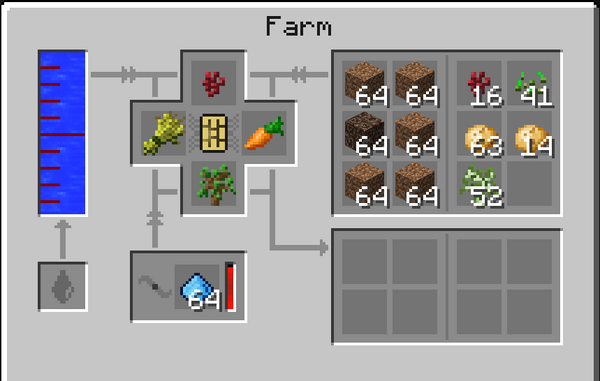 GUI farmy ukazující nastavení jednotlivých sekcí.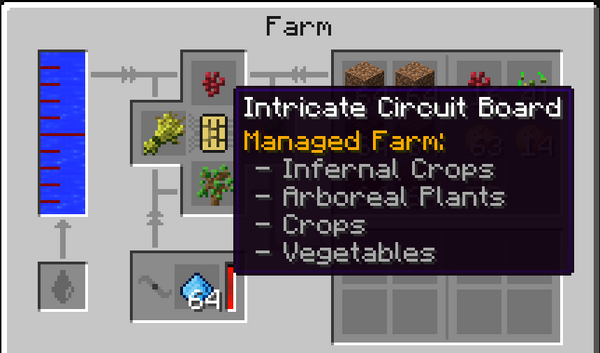 Nastavení Intricate Circuit Board pro tuto farmu.
Managed Farmy
Managed Farmy nezasazují a nesklízí jen rostliny, ale také nastavují a obnovují potřebnou půdu pro růst.
Nastavení Soldering Iron pro Managed Farmy je následující:
Manual Farmy
Manuální Farmy narozdíl od Managed nepřipravují půdu pro rostliny automaticky. Pouze zasazují a sklízí rostlinky/stromy.
Nastavení Soldering Iron pro Managed Farmy je následující:
Orientace Farem
Orientaci farem nastavujete v Circuit Board pomocí Soldering Iron. Zde je seznam posupně jdoucích směrů a jejich znaky:
N - Sever
S - Jih
E - Východ
W - Západ
Ad blocker interference detected!
Wikia is a free-to-use site that makes money from advertising. We have a modified experience for viewers using ad blockers

Wikia is not accessible if you've made further modifications. Remove the custom ad blocker rule(s) and the page will load as expected.