Moistener se používá k k produkci Mycelia z obilí, semínek a vody. Můžete ho také použít k vytvoření Moss Stone nebo Mossy Stone Bricku. Nepotřebuje žádnou energii.
Obilí se cyklují přes "Working slot" během produkce. Pomalu degraduje následujícím způsobem:
Wheat->Mouldy Wheat->Decaying Wheat->Mulch. Mulch je produkovaný jako odpad a může být odstraněn z přístroje.
Důležitá poznámka: Tvorba Mycelia potřebuje vlhké a tmavé prostředí. Čím nižší Light level tím rychlejší produkce.
GUI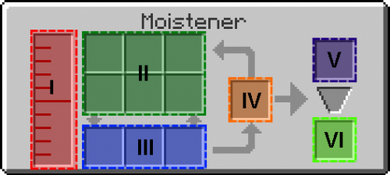 I. Resource Tank:
Tank, ve kterém se skladuje voda.
II. Resource Stash:
Pokud je slot III. prázdný, přesunou se itemy z tohoto slotu do III. Může se přesunout až 2 stacky najednou.
III. Reservoir:
IV. Working Slot:
Item v tomto slotu se momentálně používá k produkci mycelia.
V. Selector Slot:
Item v tomto slotu určuje co bude Moistener vytvářet. Pokud do něj vložíte semínka bude se vytvářet Mycelium. Pokud do něj vložíte Cobblestone, bude se vytvářet Moss Stone. A pokud do něj vložíte Stone Brick, vytvoří vám Mossy Stone Brick.
VI. Product and Input Slot:
Vyprodukované blocky se ukládají do tohoto slotu. Můžete ho také použít k manuálnímu doplnění vody pomocí Canů.
Crafting
Ad blocker interference detected!
Wikia is a free-to-use site that makes money from advertising. We have a modified experience for viewers using ad blockers

Wikia is not accessible if you've made further modifications. Remove the custom ad blocker rule(s) and the page will load as expected.