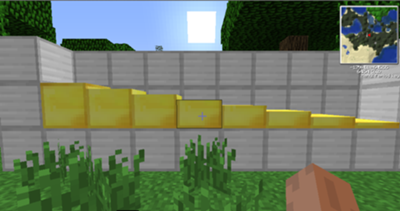 Velikost Micro Blocků

Micro Blocky jsou velkou součástí módu Redpower 2. Vzniknou rozřezáním   téměř jakéhokoliv blocku (převážně Vanilla a Redpower) pomocí Handsaw. Různé druhy pilek mají různou životnost a mohou také řezat jiný materiál. Po rozřezání vám mohou vzniknout Panely, Covery, Stripy a mnoho dalších tvarů. Ty pak můžete použít k výrobě jiných itemů nebo použít k zakrytí kabelů a vedení.
Rozřezané blocky lze opět skládat do původní velikosti.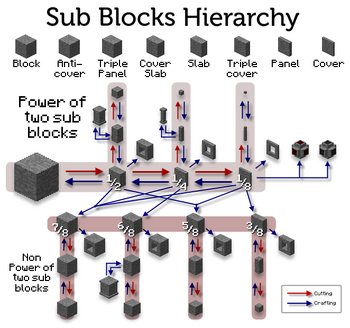 Strom řezání a skládání Micro Blocků
Různé možnosti umístění Micro Blocků
Pilky se rozdělují na 3 druhy:
Využití různých typů
Iron Handsaw může rozřezat následující typy blocků:
Wood, Wooden Planks, Bookshelf, Rubberwood
Dirt, Clay
Netherrack, Soul Sand
Pumpkin, Snow, Wool 
Gem pilky můžou rozřezat předchozí typy blocků + následující:
Cobblestone, Stone, Moss Stone, Sandstone
Brick, Glass
Iron, Gold, Lapis Lazuli
Stone Brick, Nether Brick
Diamond Handsaw může rozřezat předchozí typy blocků + následující:
Toto je také jediná pilka, kterou můžete rozřezat Silicon Boule.
Druhy Micro Blocků
Blocky
Další druhy Micro Blocků:
Column
Pillar
Post
Tyto blocky lze řezat i horizontálně aby byli užší.
Z Hollow Coverů lze vytvořit větší varianty Hollow. Hollow znamená, že uprostřed blocku je díra a lze skrz něj protáhnout Pneumatic Tube nebo Jacketed Wire.
Další druhy Hollow blocků:
Hollow Anticover

Hollow Cover Slab
Hollow Slab

Hollow Triple Panel

Hollow Triple Cover

Hollow Panel
Stripy
Další druhy Stripů:

Anticover Strip
Triple Panel Strip
Cover Slab Strip

Triple Cover Strip
Dva Stripy o stejné velikosti můžou být spojeny k vytvoření větší části.
Corner
Další druhy Cornerů:
Anticover Corner
Triple Panel Corner
Cover Slab Corner
Triple Cover Corner
Dva Conery o stejné velikosti můžou být spojeny k vytvoření větší části.
Vlastnosti Micro Blocků
Pokud umístíte Cover na Support Frame, přestane Support Frame na sebe přilepovat ostatní blocky.
Pokud umístíte Panel na Support Frame, můžete na něj umístit truhly, vedení nebo přístroje a ty se budou posouvat společně s ním.
Ad blocker interference detected!
Wikia is a free-to-use site that makes money from advertising. We have a modified experience for viewers using ad blockers

Wikia is not accessible if you've made further modifications. Remove the custom ad blocker rule(s) and the page will load as expected.