Map

Typ
Nástroj
ID
358
395 prázdná
Obnovitelný
Ano
Stackovatelné
Ano (64)
Mod
Vanilla
Map se používá k zobrazení terénu. Pokud ji hráč drží v ruce vidí určitou oblast, kterou prozkoumal.
Každá mapa je 128×128 pixelů velká. Mapa může mít různá měřítka. Počáteční měřítko je 1 pixel: 1 block. Změna měřítka se provádí v Crafting Table přidáním papíru.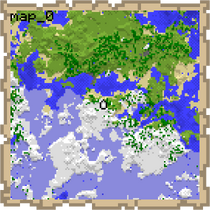 Plně objevená mapa.
Crafting
Pokud craftíte mapu poprvé, je prázdná. Při prvním kliknutím pravého tlačítka myši se z prázdné mapy stane item a vyplní se informacemi.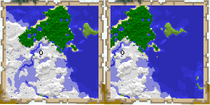 2 mapy. Vlevo zoom level 2, vpravo level 3
Zoom map
Mapu můžete vyzoomovat přidáním papíru k původní mapě. Mapu lze vyzoomovat až pět krát.
Výsledek bude vyzoomovaná verze původní mapy.
Zoom level 0
Zoom level 1
Zoom level 2
Zoom level 3
Zoom level 4
1 pixel mapy je
1 block
2×2 blocků
4×4 blocků
8×8 blocků
16×16 blocků
(1×1 chunk)
Pokrytí mapy
128×128 blocků
256×256 blocků
512×512 blocků
1024×1024 blocků
2048×2048 blocků
8×8 chunků
16×16 chunků
32×32 chunků
64×64 chunků
128×128 chunků
Klonování
Výsledné mapy budou mít stejné jméno a stejný střed jako původní mapa. Klonované mapy jsou stackovatelné.
Chování
Typ mapy záleží kde ji vytvoříte (aktivujete). Můžete vytvořit mapu Světa, Netheru nebo Endu. Centrum je tam, kde ji aktivujete. Po aktivaci se hráčova pozice označí jako bílá tečka.
Zobrazení mapy
Mapy jsou velké 128×128 pixelů velké a můžou se změnit z 128×128 na 2048×2048 blocků. Mapa zobrazuje koordinace X a Z.
Využití
Mapy pomáhají hráči pokud se ztratí. V Multiplayeru se také používá k znovu nalezení těžebních dolů. Můžete také vyměňovat mapy s ostatními hráči.
Mapy také ukazují vyšší a nižší místa (dle světlosti barev). Mapy nezobrazují jeskyně.
Zajímavosti
Mapa a natažený luk jsou jediné dva blocky v Minecraftu, které se drží oběma rukama.
Mapy jsou nejdetailnějším itemem ve hře.
Mapy zobrazují pouze povrch světa.
Itemy z klasického Minecraftu
Ad blocker interference detected!
Wikia is a free-to-use site that makes money from advertising. We have a modified experience for viewers using ad blockers

Wikia is not accessible if you've made further modifications. Remove the custom ad blocker rule(s) and the page will load as expected.