MAtmos je mód, který upravuje zvuky a atmosféru v Minecraftu. Funguje pro SinglePlayer i MultiPlayer. Zvuky jsou proměnné v závislosti na prostředí a výšce hráče. V lesích uslyšíte ptáky, u lávy bublání a pokud jste ve velké výšce nebo na pláních uslyšíte kolem sebe vítr. Dokonce je zde i meluzína a pokud se uzavřete do uzavřeného prostoru, uslyšíte tichý, dunivý vítr jak naráží na stěny jako v realném světě.
Zvuky lze vypnout klávesou F7. Pokud je chcete ztlumit nebo zesílit, podržte F7 a myší se podívejte nahoru nebo dolů.
MAtmos můžete stáhnout na oficiálních stránkách:
Nejnovější Verze
Starší Verze
Fórum
Changelog
Instalace
Soubor MAtmos.zip vložte do složky .minecraft/mods. Ke spuštění musíte mít v klientovi nainstalovaný Minecraft Forge.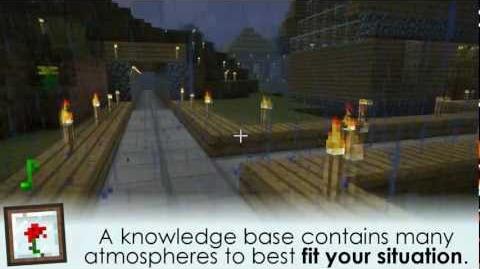 Ad blocker interference detected!
Wikia is a free-to-use site that makes money from advertising. We have a modified experience for viewers using ad blockers

Wikia is not accessible if you've made further modifications. Remove the custom ad blocker rule(s) and the page will load as expected.