Light Sensor je jeden z logických bloků přidaných módem Redpower 2, které zabírají velmi málo místa a fungují jako velké a komplexní Redstone Celly, Latche nebo Gate.
Light Sensor detekuje kolik světla dopadá z nebe (ve dne i v noci). Pokud se Light Sensoru dotknou paprsky světla tak vyšle Redstone signál. Light Sensor má čtyři různé úrovně nastavení pro určení kolik světla je potřeba k aktivaci Sensoru.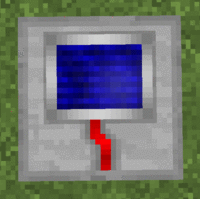 Zobrazení všech 4 nastavení.
Pro nastavení úrovně Sensoru musíte držet ⇧ Shift a kliknout pravým tlačítkem myši se šroubovákem v ruce na Light Sensor. Tímto měníte detekci světla o Light Levelu 1, 5, 9 a 13. Pro přirovnání denní světlo má Light Level 15, noční světlo 4 a Redstone Torch 7.
Kliknutím pravým tlačítkem myši pomocí šroubováku Light Sensor otočíte.
Crafting
Ad blocker interference detected!
Wikia is a free-to-use site that makes money from advertising. We have a modified experience for viewers using ad blockers

Wikia is not accessible if you've made further modifications. Remove the custom ad blocker rule(s) and the page will load as expected.