Launcher Track dokáže vystřelit Minecart do vzduchu a zároveň do dálky. Vzdálenost lze nastavit kliknutím pravého tlačítka myši s Crowbarem v ruce na Launcher Track. Lze nastavit vzdálenost od 5 do 30 blocků.
Aby Launcher Track fungovala, musíte do ní přivést aktivní Redstone signál.
Crafting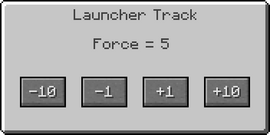 GUI Launcher Tracku
RailCraft
 

Ostatní

Armor

Batohy

Bore Heady

Nástroje
Ad blocker interference detected!
Wikia is a free-to-use site that makes money from advertising. We have a modified experience for viewers using ad blockers

Wikia is not accessible if you've made further modifications. Remove the custom ad blocker rule(s) and the page will load as expected.