Iron Golem

HP
100 ( × 50
Útočná síla
7 ( až 21 ( × 10.5
Spawn
Vedle skupiny 10 Villagerů a 21 dpmů. Light level jakýkoliv nebo kdekoliv pokud ho vytvoří hráč.
Dropy
(3-5)
File:Grid Poppy.png (0-2)
Zkušenosti
0
Iron Golem (železní golemové) jsou velcí, pomocní mobové. Jejich hlavní účel je bránit vesničany ve vesnicích před nepřátelskými moby.
Vytvoření
Golemové se standartně spawnují ve vesnici, pokud je v ní alespoň 10 vesničanů a 21 domů (dveří). Mohou se spawnout i v uměle vytvořené vesnici. Šance na spawn je 1 golem na 7000 ticků, cca 1 za 6 minut.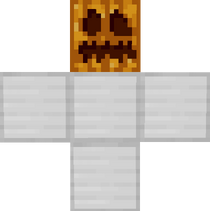 Sestava Iron Golema.
Železní golemové se vytvářejí podobně jako sněžní golemové a to tak, že hráč musí postavit ze 4 iron iron bloků a navrch položit dýni nebo Jack-O-Lantern.
Chování
Golemové se chovají podobně jako ochočení vlci, ale loajální jsou vesničanům. Jsou pomalejší, ale mají ohromnou sílu, větší dosah, větší život a větší odolnost proti pádu a utopení. Což je dělá výborným prostředkem k obraně jak hráče tak vesničanů. Zdraví se jim sice neobnovuje, ale je možné je léčit léčivým splash potionem. Jsou schopni sbírat kytky a dávat je vesničanům, což symbolizuje jejich přátelský vztah.
Útočení
Přírodně spawnutí golemové zaútočí na hráče v případě, že na ně hráč zaútočí první, ale relativně rychle to vzdají (spíš taková výstraha). Ale pokud hráč zaútočí na vesničana, tak se do něj golem pustí naostro. Pokud se hráč dostatečně vzdálí, tak na něj golem zapomene. Uměle vytvoření golemové nebrání nikoho (jen sebe) a jen se toulají po okolí. Na creepera zaútočí pouze pokud má nízké zdraví. Golemové útočí na nepřátelské moby pokud jsou ve stejné výšce a do 5 bloků vzdálení. Přírodně spawnutí golemové brání vesničany bez vlivu na vzdálenost.
Po vyprovokování, golemové přiběhnou k cíli a rozmáchnou se rukama nahoru a zraní za 7 (




až 21 (

× 10.5 životů, navíc tím cíl odhodí. Tento útok je nejsilnější útok na blízko ve hře. Jejich dosah je tak velký, že můžou cíl zranit i za zdí o tloušťce 1 bloku.
Pohyb
Golemové mohou vyšplhat na jakýkoli tvrdý povrch který je jeden blok vysoký a mohou slézat dolů pokud tam je alespoň prostor 2x1 a 3 na výšku. Nesnaží se vyhnout kaktusům a pokud je to možné klidně na ně i vylezou. Vyhýbají se vodě a lávě, sice se nemohou utopit, ale pod vodou se sekají. Mohou "přeskočit" díru dlouhou jeden blok ať je jakkoli hluboká. Hráči mohou golema tlačit po žebříku ačkoli samotní mohou vylézt jen na 1 blok vysoký.
Seznam zvířat, monster a itemů z nich
Ad blocker interference detected!
Wikia is a free-to-use site that makes money from advertising. We have a modified experience for viewers using ad blockers

Wikia is not accessible if you've made further modifications. Remove the custom ad blocker rule(s) and the page will load as expected.