Inventory Tweaks je mód, který se zaměřuje na srovnávání itemů v inventáři a truhlách. Díky tomuto módu můžete jedním klikem přerovnat všechny itemy ve vaší truhle. Dokáže také automaticky přehazovat krumpáče pokud se rozbijí.
Inventory Tweaks můžete stáhnout na oficiálním fóru:
Nejnovější Verze
Starší Verze
Pokročilé nastavení CFG
Bug Tracker
Mód lze použít v SinglePlayeru i Multiplayeru. Inventory Tweaks je klientový mód tzn. nemusí být nainstalovaný na serveru. Pluginy jako je NoCheatPlus vás však mohou označit jako cheatery.
Instalace
Soubor Inventory Tweaks.jar vložte do složky .minecraft/mods. Ke spuštění musíte mít v klientovi nainstalovaný Minecraft Forge.
Zkratky a nastavení
Do nastavení Inventory Tweaks se dostanete přes tlačítko se třemi tečkami. Ten naleznete v otevřeném inventáři nebo truhle.
Sort Key, je klávesová zkratka, kterou okamžitě srovnáte obsah inventáře.
Shortcuts zapíná nebo vypíná zkratky.
Auto-refill zapíná nebo vypíná automatické přehazování nástrojů pokud se rozbijí. Doplňuje také blocky do plného stacku.
Middle Click zapíná nebo vypíná srovnání obsahu truhly pomocí kliknutí kolečka myši.
Dále je zde pokročilejší nastavení jako auto-nasazení brnění, vypnutí zvuků nebo vypnutí tlačítek v truhle.
Další 3 tlačítka v otevřené truhle jsou styly, jakým Inventory Tweaks srovná itemy.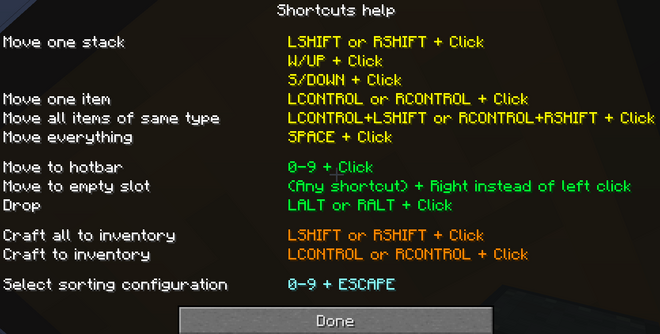 Ad blocker interference detected!
Wikia is a free-to-use site that makes money from advertising. We have a modified experience for viewers using ad blockers

Wikia is not accessible if you've made further modifications. Remove the custom ad blocker rule(s) and the page will load as expected.