Huge Mushrooms
Typ
Pevný Block
ID
99 a 100
Obnovitelný
Yes
Blast Resistance
1
Stackovatelné
Ano(64)
Mod
Vanilla
Huge Mushrooms je název pro přirozeně se vyskytující stavbu. Jsou to v podstatě normální houby vyrostlé do obřích rozměrů. Huge mushroom dosáuje výšky 5-7 blocků.
Těžba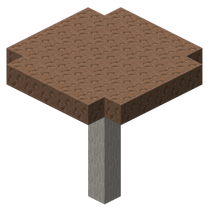 Huge Brown Mushroom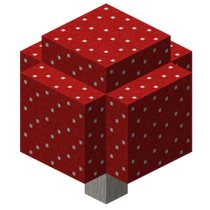 Huge Red Mushroom
Huge Mushrooms se dají pokácet čímkoliv, ale sekyrou je to nejrychlejší. Při těžbě 1 velké houby lze získat až 25 kůsů malé houby, výborné suroviny na vaření.
Díky enchantu Silk Touch můžete získat přímo celé houbové blocky s texturou dle strany vytěžené houby. Ty se dají použít jako okrasný prvek.
Mega houby v přírodě samovolně rostou na odlehlých ostrovech.
Mega houby může hráč "nechat vyrůst" pomocí Bone Meal, který aplikuje na malou houbu. Hlavní podmínkou je úplná tma při růstu na trávě a hlíně. Pro růst za světla je nutný block Mycelium jako podloží. Druhou podmínkou je dostatek místa (7x7x6 až 7x7x8 blocků).
Huge Brown Mushrooms
Edit
Huge Brown Mushroom se skládá z jednoho stonku a velké, hnědé plochy 7x7 bez rohů. Používá se jako "těžební" platforma nebo také jako tzv. Safe house (mobové za vámi nahoru nevyskočí).
Huge Red Mushrooms
Edit
Huge Red Mushroom vypadá jako Muchomůrka červená. Dá se použít jako základní dům.
Zajímavosti
Edit
Při použití Bone Meal ze strany hráče může dojít k udušení v textuře.
Tyto vyrostlé houby lze použít jako pohotovostní úkryt před nepřáteli.