Greg's Lighting je malý mód od vývojáře Greg_Ewing. Tento mód přidává do hry 2 druhy halogenů, které dokáží osvětlit až 64 blocků dlouhou chodbu. Už nebudete nikdy potřebovat tuny pochodní nebo lamp.
Dosah halogenů lze nastavit v konfiguračním souboru módu, který naleznete v .minecraft/config/GregsLighting.cfg
Pro zvětšení vzdálenosti zapište větší číslo. 64 je základní nastavení.
I:maxFloodlightRange=64

Greg's Lighting můžete stáhnout na oficiálních stránkách:
Nejnovější Verze
Staré verze
Oficiální stránky
Fórum
Mód je plně kompatibilní s módem IndustrialCraft 2 a pokud ho máte nainstalovaný, přidá vám do hry další typ halogenu.
Instalace
Soubor GregsLighting.jar vložte do složky .minecraft/mods. Ke spuštění musíte mít v klientovi nainstalovaný Minecraft Forge.
Itemy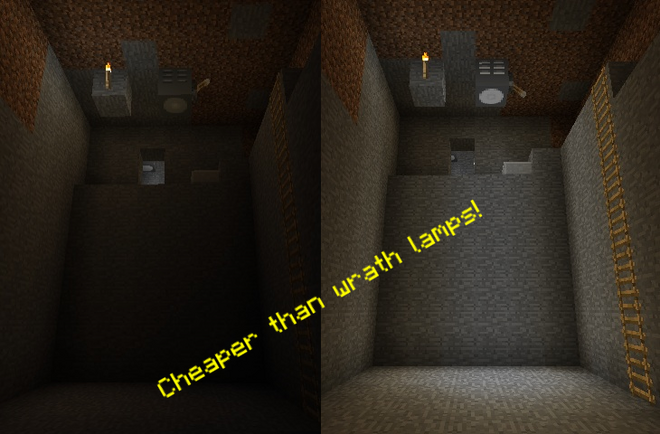 Vlevo místnost osvětlená pouze pochodní, vpravo stejná místnost osvětlená halogenem.
Ad blocker interference detected!
Wikia is a free-to-use site that makes money from advertising. We have a modified experience for viewers using ad blockers

Wikia is not accessible if you've made further modifications. Remove the custom ad blocker rule(s) and the page will load as expected.