Furnace
Typ
Pevný Block
ID
61
Obnovitelný
Ano
Blast Resistance
17.5
Nástroj
Stackovatelné
Ano(64)
EMC hodnota
8
Mod
Vanilla
Furnace (pec) je 1 z hlavních, základních blocků a největší využití má v Survival módu.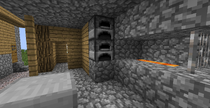 Furnace v jedné z NPC Village
Výskyt
Volně se vyskytuje u kováře v NPC vesničkách.
Využití
Používá při přepalování blocků na suroviny. Každá operace přepalování zabere 10 vteřin. Proces přepalování pokračuje do té doby, než vyhoří všechno palivo, a to i když od pece odejdete. Proces se přeruší, jestliže se:
- naplní výstupní okénko s vypálenými itemy
- liší vstupní surovina a již vypálená výstupní surovina
- přepálí všechna vstupní surovina
Přerušení procesu vede k dohoření "zapáleného" paliva, další palivo pec neodebere.
Používání Furnace
Kliknutím pravého tlačítka myši se vám otevře okno Furnace - stejné jako tady na obrázku:
sem se vkládá palivo
sem se vkládá surový materiál k přepálení (vstupní okénko)
zde se uloží přepálené itemy (výstupní okénko)
Crafting
Recepty
Zajímavosti
Efektivita Fuel itemů
Itemy z klasického Minecraftu
Ad blocker interference detected!
Wikia is a free-to-use site that makes money from advertising. We have a modified experience for viewers using ad blockers

Wikia is not accessible if you've made further modifications. Remove the custom ad blocker rule(s) and the page will load as expected.