Forge Lexicon umožňuje změnit itemy z jedné verze na jinou bez použití jakéhokoliv paliva nebo energie. Můžete měnit i Music Disc z Vanilly.
Crafting
K výrobě musíte použít Cyan Wool.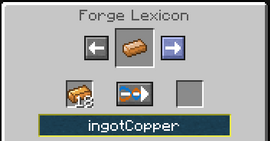 Změna 18 Copper Ingotů na jiný typ
Využití
Dokáže změnit například Copper Ingot z módu IndustrialCraft 2 na Copper Ingot z módu Redpower 2 apd.
K otevření GUI vezměte do ruky Forge Lexicon, držte ⇧ Shift a klikněte pravým tlačítkem. Do levého dolního slotu se vkládají itemy, v prostředním se vybírá výsledná verze a po dokončení se změněný item objeví vpravo dole.
Pro konverzi klikněte na tlačítko se šipkou.
Forge Lexicon můžte položit na Mystical Plinth a vytvořit tak nepřenosný Lexicon.
Ad blocker interference detected!
Wikia is a free-to-use site that makes money from advertising. We have a modified experience for viewers using ad blockers

Wikia is not accessible if you've made further modifications. Remove the custom ad blocker rule(s) and the page will load as expected.