Ad blocker interference detected!
Wikia is a free-to-use site that makes money from advertising. We have a modified experience for viewers using ad blockers

Wikia is not accessible if you've made further modifications. Remove the custom ad blocker rule(s) and the page will load as expected.
Fermenter umožňuje přeměňovat organickou hmotu na tekutinu, např. Biomass, kterou lze použít k napájení Biogas Engine s vysokým stupněm efektivity. Vlastnosti fermenteru mohou být rovněž využity k produkci Short Mead,alkoholických nápojů z Honeydew a Liquid Honey. K napájení těchto biologických procesů, Fermenter používá Fertilizer, Compost nebo Mulch jako katalyzátor a vodu, Liquid Honey nebo Apple Juice jako tekutý zdroj. Tyto tekuté produkty mohou být vloženy do Canů, lahviček nebo extrahovány pomocí Waterproof Pipes z BuildCraftu. Tento stroj musí být napájen motorem (můžete použít i motory z BuildCraftu).
GUI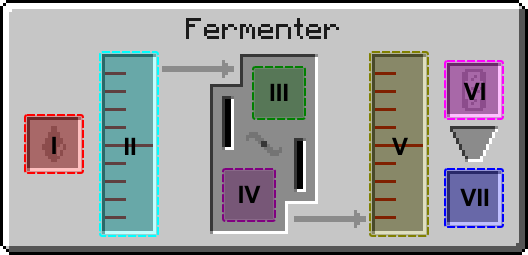 I - Liquid Input Slot
II - Liquid Tank
III - Organic Item Slot
Fermentovatelné zdroje jako Saplingy umisťujte zde.
IV - Fermentation Item Slot
V - Output Tank
VI - Can Slot
VII - Can Output Slot
Efektivita
Katalyzátor
| Item | Pracovní cykly | Kompletní spotřeba kapalin (kbelíček na item) |
| --- | --- | --- |
| Fertilizer | 200 | 11.2 |
| Compost | 250 | 12 |
| Mulch | 250 | 12 |
Kapaliny
Organické Itemy
| Vstup | Výstup na item (kbelíček) |
| --- | --- |
| Saplingy | 0.8 |
| | 0.5 |
| | 0.4 |
| | 0.2 |
| | 0.2 |
| | 0.2 |
| | 0.1 |
Crafting
Využití