Enchantment Table
Typ
Pevný Block
ID
116
Obnovitelný
Ano
Blast Resistance
6000
Nástroj
Stackovatelné
Ano(64)
EMC hodnota
16,736
Mod
Vanilla
Enchantment Table (také znám jako Enchanting Table) je block, ve kterém může hráč vylepšovat své zbraně, brnění nebo nástroje.
Enchantment Table je nutné kopat krumpáčem, jinak o něj přijdete (i o suroviny, ze kterého je vyroben).
Využití
V Enchantment table je možné vylepšit meče, luky, lopaty, krumpáče a sekery, vyrobené z jakéhokoliv materiálu.
Dále zde můžete uschovat enchant do knihy, a tak vytvořit Enchanted Book.
Umístění
Pro maximální účinnost je potřeba mít kolem Enchantment Table rozmístěno 15 knihoven. To dovolí enchantovat lepšími enchanty, až na 30 level.
Crafting
Používání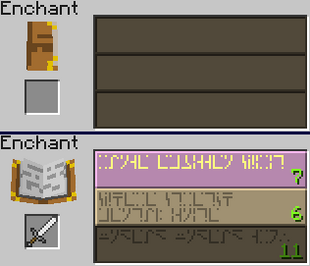 Interface Enchanant Tablu. Nahoře bez itemu. Dole s itemem a dostupnými enchanty. Poslední enchant není dostupný kvůli nedostatku XP.
Postup k očarování (vylepšení) itemu:
Pravým kliknutím na Enchanting Table se vám otevře menu, stejné jako horní část obrázku.
Do levého okénka umístíte item, který chcete očarovat.
Vpravo se vám objeví nabídka 3 enchantů. Tyto 3 enchanty se zobrazují náhodně, pokud vyndáte item z okénka a znovu ho tam vložíte, zobrazí se vám jiné 3 enchanty.
Zelené číslo je požadovaný level XP - tedy cena enchantu. Pokud je řádek v Enchantment Table šedě zbarvený, nemáte dostatek levelů na jeho získání.
Levým kliknutím na vybraný enchant jej koupíte. Odečtou se vám levely a po najetí na item se vám zobrazí, jaký enchant jste získali.
Zajímavosti
Enchantment Table má výšku 3/4 blocku, tudíž pokud se na něm plížíte, můžete spadnout.
Symboly v Enchantment Table mají různé tvary a ke každému lze přiřadit 1 písmeno z obyčejné abecedy, tyto symboly jsou označovány jako "Standart Galactic Alphabet":

Standart Galactic Alphabet
Itemy z klasického Minecraftu
Ad blocker interference detected!
Wikia is a free-to-use site that makes money from advertising. We have a modified experience for viewers using ad blockers

Wikia is not accessible if you've made further modifications. Remove the custom ad blocker rule(s) and the page will load as expected.