Emerald Transport Pipe je vylepšená verze základní Wooden Transport Pipe a umožňuje filtrování itemů. Tato trubka je dostupná pouze od verze 3.4.2 (MC 1.4.7).
Podobně jako Wooden pipe, nespojují se vzájemně na sebe a mohou být připojeny k přístroji nebo truhle.
Filtrování probíhá následovným způsobem. V bedně máte například hlínu, cobblestone a další itemy. Pokud do Emerald Pipe vložíte hlínu a cobblestone, bude vytahovat pouze tyto dva itemy střídavě. Tzn vytáhne nejdříve hlínu, pak cobblestone a pak znovu hlínu. Toto se opakuje. Ostatní itemy, které nejsou nastaveny ve filtru zůstávají v truhle.
Crafting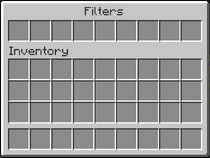 GUI po otevření Emerald Pipe.
Využití
Ad blocker interference detected!
Wikia is a free-to-use site that makes money from advertising. We have a modified experience for viewers using ad blockers

Wikia is not accessible if you've made further modifications. Remove the custom ad blocker rule(s) and the page will load as expected.