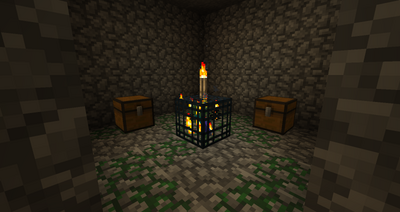 Dungeon
Dungeon
jsou generované struktury ve
světě
.
Jsou to malé místnosti z Cobblestone a Moss Stone. Uprostřed je Monster Spawner a 2 truhly. V Dungeonech můžete nalézt Zombie, Skeletony nebo pavouky.
Vlastnosti
Dungeony mají následující vlastnosti:
Spawnery v Dungeonech mají 50% šanci, že budou spawnovat Zombie, 25% šanci Skeleton a 25% šanci na pavouky.
Obsah truhel
Následující tabulka zobrazuje, co vše a s jakou pravděpodobností naleznete v truhlách uvnitř Dungeonu.
Dungeon těsně pod povrchem pouště. Písek zasypal větší část Dungeonu.
Nalezení Dungeonu
Dungeony se generují všude v podzemí, ale nejčastěji bývají okolo levelu 26 a časti také mezi 16-42.
Dungeon můžete také nalézt pomocí zvuku. Vydejte se směrem odkud se ozývají zvuky více mobů stejného typu.
Tipy
K dobití Dungeonu je nejlepší rychle osvětlit celou místnost a poté zabít moby.
Další z možností je zalití podlahy lávou.
Můžete se prokopat ze strany nebo zespodu a vybrat tak truhly bez rizika.
Zajímavosti
Po rozbití Spawneru dostanete 13-40 zkušeností.
Dungeony se budou stále generovat i když budete mít vyplé "generování struktur".
Ad blocker interference detected!
Wikia is a free-to-use site that makes money from advertising. We have a modified experience for viewers using ad blockers

Wikia is not accessible if you've made further modifications. Remove the custom ad blocker rule(s) and the page will load as expected.