Ad blocker interference detected!
Wikia is a free-to-use site that makes money from advertising. We have a modified experience for viewers using ad blockers

Wikia is not accessible if you've made further modifications. Remove the custom ad blocker rule(s) and the page will load as expected.
Dimensional Anchor je block, který načítá Chunky okolo něj. Jeden Dimensional Anchor může načítat 1x1, 3x3, 5x5, 7x7 nebo 9x9 Chunků.
Tyto velikosti lze nastavit v GUI do kterého se dostanete pravým kliknutím myši,
Crafting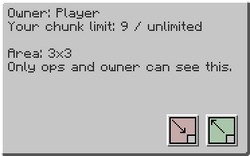 GUI Dimensional Anchoru
GUI
GUI může otevřít pouze majitel nebo admin multiplayerového serveru.
Zeleným tlačítkem zvětšujete oblast načítání a červeným tlačítkem naopak zmenšujete. Pokud stisknete tlačítko F9, zobrazí se vám načtené Chunky.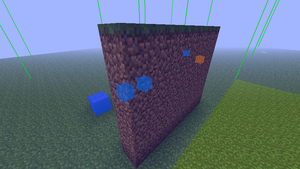 Pomocí funkce F9 můžete vidět Dimensional Anchor i přes zeď jako modré blocky.
Palivo
V základním nastavení Dimensional Anchor nepotřebuje žádné palivo. To ale lze změnit v konfiguračním souboru v .minecraft/config/immibis.cfg
Pro zapnutí přepište false na true
chunkloader.useFuel=false

Pokud chcete aby bylo možné do Dimensional Anchoru pumpovat palivo pomocí trubek (Build Craft 3, Redpower 2 apd) musíte také změnit konfigurační soubor:
Pro zapnutí přepište false na true
chunkloader.allowFuelPiping=false

Základní paliva:
Další paliva můžete přidat příkazem:
/dimanc setfuel <ID> <čas> <počet>
  Nastaví item jako palivo. Čas udávejte s koncovkami -s,-m,-h např. 10sec, 10m nebo 10h
/dimanc setfuel <ID>:<DamageValue> <čas> <počet>
  Stejné jako předchozí ale s DamageValue