Dimensional Anchor je block, který načítá Chunky okolo něj. Jeden Dimensional Anchor může načítat 1x1, 3x3, 5x5, 7x7 nebo 9x9 Chunků.
Tyto velikosti lze nastavit v GUI do kterého se dostanete pravým kliknutím myši,
Crafting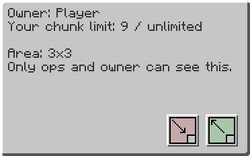 GUI Dimensional Anchoru
GUI
GUI může otevřít pouze majitel nebo admin multiplayerového serveru.
Zeleným tlačítkem zvětšujete oblast načítání a červeným tlačítkem naopak zmenšujete. Pokud stisknete tlačítko F9, zobrazí se vám načtené Chunky.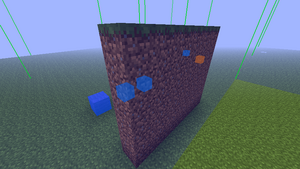 Pomocí funkce F9 můžete vidět Dimensional Anchor i přes zeď jako modré blocky.
Palivo
V základním nastavení Dimensional Anchor nepotřebuje žádné palivo. To ale lze změnit v konfiguračním souboru v .minecraft/config/immibis.cfg
Pro zapnutí přepište false na true
chunkloader.useFuel=false

Pokud chcete aby bylo možné do Dimensional Anchoru pumpovat palivo pomocí trubek (Build Craft 3, Redpower 2 apd) musíte také změnit konfigurační soubor:
Pro zapnutí přepište false na true
chunkloader.allowFuelPiping=false

Základní paliva:
Další paliva můžete přidat příkazem:
/dimanc setfuel <ID> <čas> <počet>
  Nastaví item jako palivo. Čas udávejte s koncovkami -s,-m,-h např. 10sec, 10m nebo 10h
/dimanc setfuel <ID>:<DamageValue> <čas> <počet>
  Stejné jako předchozí ale s DamageValue

Ad blocker interference detected!
Wikia is a free-to-use site that makes money from advertising. We have a modified experience for viewers using ad blockers

Wikia is not accessible if you've made further modifications. Remove the custom ad blocker rule(s) and the page will load as expected.