Diamond Transport Pipe

Typ
Trubka
ID
4311
Stackovatelné
Ano (64)
Mod
Build Craft 3
Diamond Pipe se používá k třídění itemů, které projdou trubkou podle vašeho nastavení. Lze k ní připojit až 6 trubek, a každá dostane jinou barvu. Dle barvy pak můžete nastavit jakým směrem půjdou určité itemy. Uplatňuje se především u Quarry.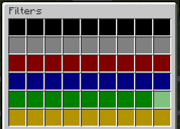 Interface Diamond trubky.
Na jednu barvu můžete nastavit až 9 itemů. Pokud není item specifikován, vyšle se směrem ve kterém není žádný filtr nebo pokud jsou všechny barvy obsazeny, vypadne na zem.
Diamantové trubky nemůžete udělat vodotěsné. Lze je položit za sebe.
Crafting
Ad blocker interference detected!
Wikia is a free-to-use site that makes money from advertising. We have a modified experience for viewers using ad blockers

Wikia is not accessible if you've made further modifications. Remove the custom ad blocker rule(s) and the page will load as expected.