Desert Temple
Desert Temple
(také známy jako
Pyramidy
) jsou struktury převážně vytvořené ze
Sandstonu
. Přirozeně se vyskytují v
pouštních
biomech. Většinou se generují na pozemním levelu, ale může se stát, že bude Desert Temple celý sasypán
pískem
.
Vnitřní pohled do Desert Templu.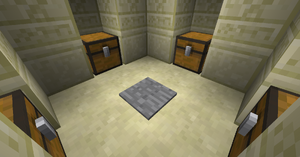 4 schované truhly s TNT.
Vzhled
Desert Temple obsahuje hodně Oranžové vlny, Sandstonu, Chiseled Sandstonu a Sandstonu schodů. Uprostřed pyramidy je block modré vlny. Pod ní je tajná místnost se čtyřma truhlama s velmi cenným lootem. Je zde také jeden Pressure Plate a pod ním 3x3x1 kusů TNT. Truhla může obsahovat Emerald, Diamond, Iron Ingot, Gold Ingot, Enchanted Book, Rotten Flesh a Bone.
Strategie
Desert Temple jsou nejcennější struktury ve hře protože jeden obsahuje 4 truhly cenných itemů. 9 Blocků TNT může všechen loot zničit.
Při pokusu k přístupu do truhly si hráč musí dát pozor aby nestoupl na Pressure Plate uprostřed. TNT zničí nejen veškerý loot, ale zabije i hráče.
Bezpečnou metodou je vylít do mítnosti vodu. Ta zničí Pressure Plate a cesta je pak bezpečná.
Zajímavosti
Desert Temple je postaven z:

3,078 Sandstone blocků
184 Smooth Sandstone blocků
39 Chiseled Sandstone blocků
54 blocků Orange Wool
16 Sandstone Stair
9 TNT blocks
4 Chest
2 Sandstone Slab
1 block Blue Wool
1 Stone Pressure Plate

Desert Temple je jediná struktura ve které se přirozeně nachází TNT.
Velmi vzácně se může spawnout Desert Temple ve vesnici.
Seznam zvířat, monster a itemů z nich
Ad blocker interference detected!
Wikia is a free-to-use site that makes money from advertising. We have a modified experience for viewers using ad blockers

Wikia is not accessible if you've made further modifications. Remove the custom ad blocker rule(s) and the page will load as expected.