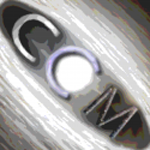 Avatar moddera Claycorp
Death-Timer je mód, který přidává do hry stopky a časovače. Automatické časovače se vytvoří pokud umřete. Zobrazí vám zda-li je Chunk, kde jste umřeli načtený nebo ne a za jak dlouho se smažou itemy na zemi. Také vytvoří malou šipku zobrazující směr a vzdálenost kde jste umřeli, takže snadno dojdete na místo smrti.
Můžete si vytvořit také vlastní stopky.
Death-Timer můžete stáhnout na oficiálním fóru:
Nejnovější Verze
Bug Tracker
Oficiální anglickou Wikipedii naleznete → zde
Instalace
Soubor Death-Timer.jar vložte do složky .minecraft/mods. Ke spuštění musíte mít nainstalovaný coremod Nucleum-Omnium a v klientovi nainstalovaný Minecraft Forge.
Death-Timer nepřidává žádné itemy ani blocky.
Příkazy
Timer
/timer help
/timer [list]
/timer add <název> <time> [X] [Y] [Z] [dimenze]
/timer stop <název>
/timer sound <název> [hlasitost] [výška]
/timer point <název> [X] [Y] [Z] [dimenze]

Stopwatch
/stopwatch help
/stopwatch [list]
/stopwatch add <název>
/stopwatch stop <název>
/stopwatch pause <název>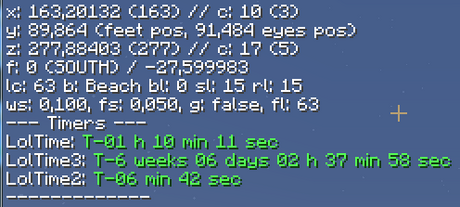 Ad blocker interference detected!
Wikia is a free-to-use site that makes money from advertising. We have a modified experience for viewers using ad blockers

Wikia is not accessible if you've made further modifications. Remove the custom ad blocker rule(s) and the page will load as expected.