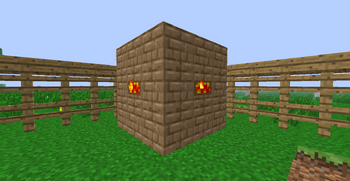 Sestavená a aktivní Coke Oven.
Coke Oven je multibloková struktura velká 3x3x3. Využívá se k produkci Coal Coke a Creosote Oilu.
Aby jste sestavili správně Coke Oven, musíte postavit kostku 3x3x3 s dutým středem pomocí Coke Oven Bricků. Celkem je potřeba 26 blocků (140 Bricků a 130 písku).

Gif stavby Coke Oven
Pokud Coke Oven sestavíte správně, po pár vteřinách se blocky spojí do jednoho a po stranách se objeví otvory. Nelze postavit dvě Coke Oven vedle sebe. Musí mezi nimi být alespoň jedne block místo. Pravým kliknutím ji otevřete.
Do Coke Oven můžete vložit Coal k produkci Coal Coke nebo dřevo k produkci Charcoalu. Doba produkce je 3 minuty. Výhodou Coal Coke je, že dokáže hořet až 4x déle jak obyčejné uhlí.
Sandy Brick má stejnou texturu jako Coke Oven Brick. Nelze z něj však postavit Coke Oven.
Extrakce Creosote Oilu
Při produkci Coal Coke nebo Charcoalu vzniká Creosote Oil. Ten se shromažďuje uvnitř Coke Oven. Maximální kapacita je 64,000 mB (64 kbelíčků).
Olej z ní můžete vyndat pomocí prázdných kbelíčků, pokud je vložíte do pravé horní části GUI, nebo pomocí Glass Bottle. Pokud máte nainstalovaný mód Build Craft 3, můžete použít Waterproof Pipes.
Výroba Coke Oven Bricku
RailCraft
 

Ostatní

Armor

Batohy

Bore Heady

Nástroje
Ad blocker interference detected!
Wikia is a free-to-use site that makes money from advertising. We have a modified experience for viewers using ad blockers

Wikia is not accessible if you've made further modifications. Remove the custom ad blocker rule(s) and the page will load as expected.