Clock

Typ
Nástroj
ID
347
Obnovitelný
Ano
Stackovatelné
Ano (64)
EMC hodnota
N/A
Mod
Vanilla
Clock (hodinky) je item, který zobrazuje aktuální herní čas a ukazuje pozici slunce a měsíce.
Využití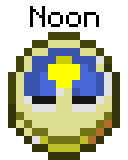 Otáčení hodin a určování času
Hodiny jsou rozděleny na dvě části. Den a noc. Podle času se pomalu otáčí kolem své osy a dle pozice slunce/měsíce. Díky tomu hráč pozná jaký čas právě je. Pokud umístíte hodiny do Item Frame budou stále fungovat a uvidíte jaký je čas.
Hodiny se nejvíce hodí v jeskyních aby hráč věděl jestli je den nebo noc. Díky tomu se může i vyspat aniž by musel vylézt ven. Stejně jako Compass, hodiny nefungují v Netheru a v Endu. Budou se náhodně otáčet.
Crafting
Zajímavosti
Hodiny zobrazují čas i v Crafting Table, takže je nemusíte ani craftit.
Pokud se vyspíte a držíte v ruce hodinky, po probuzení se rychle přetočí.
Itemy z klasického Minecraftu
Ad blocker interference detected!
Wikia is a free-to-use site that makes money from advertising. We have a modified experience for viewers using ad blockers

Wikia is not accessible if you've made further modifications. Remove the custom ad blocker rule(s) and the page will load as expected.